Reg man has the cure for IBM storage: Just swallow 10 firms
It'll only set you back a few billion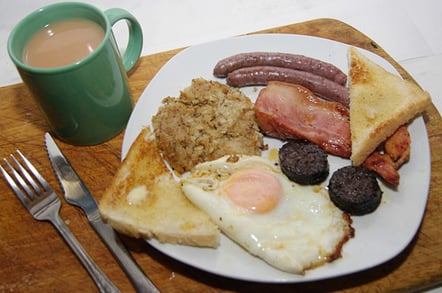 Comment When you are walking on the Moon, far from home and Earth's tethering gravity then giant steps are what you take. When a product set becomes low or no-growth, then its tethering product gravity effect is weakened and you need to take giant steps to rebuild it ... which brings us to IBM.
Witness its results. IBM's old certainties have been ripped away forces generated by the cloud, virtualisation, software-defined servers, storage and networking. It has its services arm, which under-performs. It has the mainframe niche. It has Power-based servers. It has its software products, with cloudy ones like SoftLayer looking good and older ones like Lotus Notes now abandoned.
In networking, it's basically nowhere.
In storage, the picture is a mixture of near-broken products, mainframe nichery (DS8000), low-growth kit like XIV and some standouts like FlashSystem.
In tape it has a proprietary niche plus the LTO gear.
Its GPFS is its play in the HPC/Big Data parallel file system area.
It has Tivoli for data protection and management but this is a legacy product.
DS8000 has a loyal and mainframe-oriented base.
It has a raft of now- or near-legacy products, which includes dual-controller array Storwize/SVC. FlashSystem is doing very well and gives SVC a life extension. But its converged systems (Pure stuff) doesn't seem impressive and it lacks a virtual SAN appliance and a hyper-converged system. The ULLtraDIMM excitement has gone to Lenovo with X86 and it will now have to construct a hyperconverged appliance with Lenovo servers or OEM/resell Simplivity/Nutanix/whatever to get into the hyper-converged game.
What else do I see?
There is no cloud storage gateway as far as I know.
There is no copy data management product.
There is no file sync 'n' share product.
There is no object storage technology.
There is no new hybrid flash/disk array product.
There is no cloud-scale, scale-out filer product.
There is no overall storage abstraction control layer, like EMC's ViPR, to paper convincingly over the differences in its many and varied storage products.
All-in-all, the storage product set lacks a convincing overall vision and is incomplete, following on from what I can only think of as several years of complacency after the Diligent, XIV and Storwize acquisitions, punctuated by the rightness of the Texas Memory Systems buy.
Should IBM's storage business be sold?
IBM storage represents a low-growth or overall no-growth area and can't easily be sold off. I can't see any other supplier that would want IBM's storage business as an entity - without IBM understanding that major surgery, including product amputations, would follow any sell-off.
Any yet IBM wants to get out of low-growth/no-growth hardware-based businesses, hence the PC, server and Microelectronics disposals. So storage should go too. In that case then, in what real sense is storage different from them?
If the practical difference is that no buyer exists for the storage business because it is a collection of separate and disparate under-performing product lines, then IBM has to take what's hot, consign the rest to history or eventual history, and rebuild it.
That means, I think, it has to regenerate its storage line and acquire companies/products to fill holes in it: virtual SAN and filer software, object storage, cloud style access back-end storage, sync and share capability, cloud storage gateway, hyperconverged appliance, copy data management like Delphix or Actifio, modern hybrid/flash arrays.
But underlying this, it needs a sense of where the storage needs are going for its customers and what its overarching storage product strategy should be to satisfy those needs. Having a software-defined storage mantra is a start but that's only glossing over the problems.
What's needed is a deep storage strategy that recognises and reflects secular storage market changes, and provides a framework within which the software-defined storage provides functionality and features that match the needs of the market.
My view is that it needs to make seven to 10 tuck-in acquisitions, which will cost it $2 - 3bn or more, and it has to put existing no-growth/low-growth storage assets somewhere where their product life can be managed – DS-non8000s, XIV, StorWize, etc – into a a traditional legacy array business with a predicted decline ahead of it.
Being brutal, FlashSystem, with SVC, has a definite future but in your correspondent's opinion, there is nothing else in the product set with any real high-growth prospects. Its biggest gap is in the server-side storage area with hyper-converged systems. Following that it needs better links to cloud storage, a ViPR-like SRM abstraction layer, and object storage technology, and then the other items.
Alternatively IBM has to go big on storage niches, meaning GPFS, DS8000, tape, and FlashSystem, and OEM/resell storage gap-filling products. Personally I think that's a retrograde step. IBM has traditionally covered the enterprise storage area and meets the majority of classic enterprise storage needs.
Stepping back from that to a restricted set of niche products would be courageous and change the traditional focus of Big Blue's storage business. But that would, at least, recognise the seriousness of IBM's storage product position and be a giant step.
Look at Apple and Carl Icahn, Elliott Management and EMC, and activist investment activity in Microsoft. No business is too big to escape the activist investors anymore. Will they turn their attention to IBM next? Could the CEO survive if that happened?
Come on, Big Blue. You're BIG Blue, so giant steps are what you must take, and the gravity tethering you to your existing storage strategy is weak. So take the giant steps needed. You're IBM, after all. Think Big, Big Blue. ®
Sponsored: Minds Mastering Machines - Call for papers now open