Apple flings iOS 8.1 at world+dog: Our AMAZEBALLS 9-step installation guide
Let's hope it's not an 8.brick update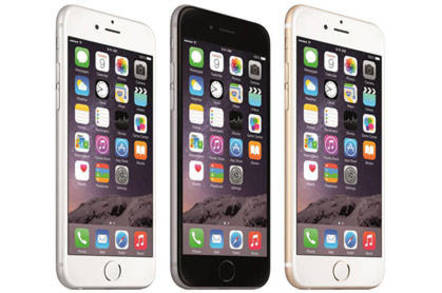 Apple has rolled out iOS 8.1, enabling features on the iPhone 6 and other new Apple devices.
The company said the 8.1 update will allow users to begin using the Apple Pay platform with their iPhone 6 and 6 Plus NFC-enabled handsets. This allows users to link their bank accounts with the Apple Pay software, so when the phone is bonked against a shop register or some other NFC reader, a transaction can be made. The update also brings the return of the Camera Roll interface.
To install the OS update, you must:
Turn on your iDevice by pressing the power button briefly. This is an essential step and often overlooked even by experts.
Glance wearily at the small stack of utility bills on the table. Something for tomorrow. The microwave beeps to remind you it's finished cooking your noodles, but you're still not hungry.
Unlock your device, if it's asleep or just powered on. That means remembering your PIN.
Yes, the PIN. It was her birthday.
Tap on the Settings app icon. Then tap 'General' on the lefthand side. Then 'Software update' on the righthand side.
If your device is new enough, you can tap 'Downland and install'.
Follow the instructions.
Isn't it amazing how many interrupts are handled, how many instructions are executed, how many nanometre-scale gates are toggled during every human heartbeat?
Go outside while iOS 8.1 is downloading. Forget you were downloading and installing 8.1.
Apple gave word of the new iOS last week when it introduced a pair of new iPads, setting 20 October as the official launch date for Apple Pay.
The retail payment platform was first showcased by Cook and Co. during the unveiling of the iPhone 6 and 6 Plus in September. Analysts have estimated that the platform will bring Apple more than $100m in revenues in 2015, and $310m in 2016, as merchants flock to adopt the technology – and Cupertino takes its cut.
Additionally, the iOS 8.1 release brings a number of security fixes for the Apple mobile platform. The company said that five CVE-listed vulnerabilities were addressed with the release including flaws in Bluetooth pairing, data encryption and TLS certificates in iCloud.
The update also includes a fix for the infamous SSL 3.0 POODLE security flaw, barring devices from reverting to the vulnerable security protocol for website connections.
Thus far, indications are that the 8.1 update is installing on user iThings without any issue, a welcome bit of news for Apple, which has struggled with successfully putting out updates after some user devices were greatly impaired by OS updates.
The iOS 8.0.1 update had those unpleasant effects on some users, while the company took until iOS 8.0.2 to enable its much-hyped HealthKit platform. The bungled updates only piled on bad news for Apple, already struggling with user complaints that the iPhone 6 Plus was prone to bending. ®