Deutsche Telecom's BRATTY OFFSPRING earns parent €38m fine
Thanks for that you little ****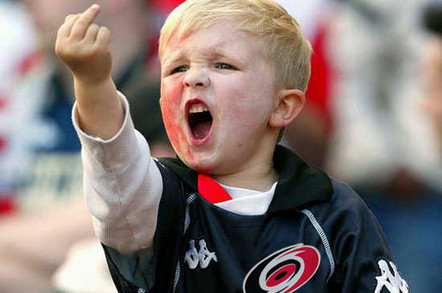 The EU's competition chief has slapped a €38m fine on Deutsche Telekom for allowing its bratty offspring Slovak Telekom to bully the Slovak broadband market, charging inflated prices to competitors for network access.
Commissioner Joaquin Almunia said Slovak Telecom had abused its dominant position in Slovakia as the only nation-wide metallic access network (a physical system), and tried to squeeze competitors out of the market.
All this means that Slovak Telecom, or its parent DT, will have to pay up, said Almunia, adding DT was a recidivist, as this isn't the first time it has been found, directly or indirectly, guilty of breaking EU competition law.
For this reason, Deutsche Telekom also received an additional €31m fine to ensure sufficient deterrence and to sanction its repeated abusive behaviour.
DT has a 51 per cent stake in Slovak Telekom.
As well as DT, Wanadoo, a subsidiary of France Telecom, was fined for predatory pricing in 2003; Telefonica was fined for the same conduct in the Spanish broadband market in 2007; and Telekomunikacja Polska was sanctioned for refusal to allow access to its network as recently as 2011.
The current investigation came following complaints from numerous new entrants. The commish found the errant child was charging vastly inflated prices to new competitors for access to its local networks, discouraging "new companies from entering the market, and reducing the choice of suppliers of telecoms services, as well as price competition for consumers", said the commish.
EU figures revealed that (for the period 1998 through 2001) Slovak Telecom charged competitors more for unbundled access at wholesale level than it charged its subscribers for access at the retail level, known as margin squeeze and contrary to EU competition rules.
The fines must be paid within three months. If DT decides to appeal, it must still pay the fine into a blocked bank account pending the final outcome of the appeal process. ®