VMware's new VDI play is self-destructing virtual desktops
Forget BootCamp, set policies to let temps - and Macs - in and then boot them out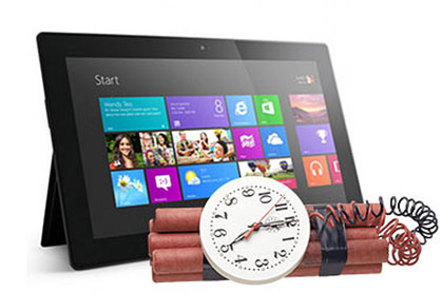 VMware has announced a new end-user computing product at its VMworld Europe gabfest.
Horizon Flex allows admins to define virtual machines (VMs) and deploy them to Macs or PCs, where they run in desktop hypervisors even when those devices are offline. VMware would prefer you use its own Player on PCs rather than desktop Hyper-V. Mac users get to run Fusion. VMs can be controlled with policies so they can, among other things, self-destruct after a time or access only certain resources.
The thinking behind the product is that contractors and temporary workers might be best-served with a temporary VM drop, rather than a more elaborate set-up. Self-destructing VMs mean fewer residual security worries at the end of an engagement, as there's nothing of note installed on the client device and the VM will become useless once the policy engine repels the VM's future connections to resources behind the firewall.
The idea is also being touted as a nice way to enhance bring your own device (BYOD) management, especially for those pesky Macs that some folks insist on bringing into the office.
Horizon Flex will ship in December.
Also on the VMworld Europe agenda is "Horizon Air Desktop DR" a desktop disaster recovery service that will offer failover services for physical or virtual desktops to VMware's "Air" cloud service. VMware says it hears of incidents that take down desktop fleets, but leave the core data centre up and running. By providing cloudy desktops pre-configured to connect to the data centre and the applications therein, VMware thinks it's onto a winner. It might be right: your correspondent is familiar with call centres where staff are expected to work remotely during natural disasters that preventing them from making it into the office. A cloudy desktop would be just the thing under those circumstances and at a starting price of US$5/month looks a well-priced insurance policy.
On a related note, VMware has also announced that its desktop as a service service will shortly be delivered from its European data centres in France and Germany during 2015's first quarter.
Another announcement concerns CloudVolumes, the company VMware acquired earlier this year. Now known as App Volumes, the app-deploying-and-decoupling-from-the-OS kit will allow apps to be deployed as virtual disks that attach to an OS but aren't dependent on it. Integration with Horizon View Broker will make it possible to pump these apps out to desktops. Updating the app will require only an update of the master version, before redeployment of update to those desktops and devices where it has been despatched.
One more nugget: a new program for the channel will detail the storage rigs required to implement desktop virtualisation, as VMware says unexpected costs are often derailing such efforts. It's hoped more guidance will mean fewer nasty surprises during implementation, both in terms of cost and performance.
It wouldn't be a VMworld without one of Virtzilla's rivals trying some competitive marketing and this time around Microsoft's having a go, as Redmond chose Monday to release version 3.0 of its Virtual Machine Converter. The new version is even better at turning VMware VMs into Hyper-V or Azure instances. ®
Sponsored: Minds Mastering Machines - Call for papers now open