Snapchat 'hack' pics mostly clothed user snaps, odd bits of legacy pr0n – report
Probably doesn't have underage nudes, says analyst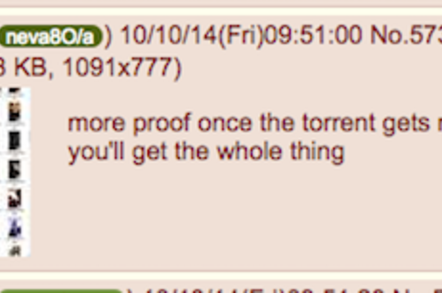 Last week's SnapChat image leak has turned out to be a damp squib rather than the serious privacy breach anticipated by many in the wake of the "Fappening".
As previously reported, 200,0000 private photos and videos sent using the SnapChat application and archived using the unofficial (and now defunct) SnapSaved.com site leaked onto the web last week.
The 12.6 GB archive of the so-called Snappening leak was later made available for all and sundry to download via BitTorrent.
But the actual leak only consists of a handful of videos, very few of which contain compromising material, according to Andrew Conway, a security researcher at messaging security firm Cloudmark.
The collection available on BitTorrent does contain leaked SnapChat images and movies. Yet these are mostly innocuous junk, rather than the sort of sensitive material leaked through the recent nude celeb iCloud leaks with which the SnapChat privacy flap was initially compared, as Conway explains in a blog post.
There is a fair amount of hype about the seriousness of the leak. I examined a sample of these, which I have since deleted.

The vast majority of them do not contain nudity. Many are just a text message on a black background, or photos of people pulling faces or showing their day to day activities. Of those that do contain nudity, most do not show a face.

There were no photos in the sample I examined featuring nudes of obviously under age subjects. Of the photos that did feature nudity and a recognizable face, several were of professional models, and one had a Playboy logo in the corner.
Conway notes there are plenty of fake links claiming to be to the stolen SnapChat images but which are actually designed to trick users into downloading adware for malicious sites or getting hoodwinked into participating in survey scams.
SnapChatted material is supposed to self-destruct seconds after viewing. However the distribution of SnapChats well past their destruct-by date is not new and may well reoccur in future despite SnapChat's best efforts to improve its security. SnapChat maintains it isn't responsible for the latest leak, which it blames on the "use of third-party apps to send and receive Snaps, a practice that we expressly prohibit in our ToU [Terms of Use]".
The firm added:
We can confirm that Snapchat's servers were never breached and were not the source of these leaks.

— Snapchat (@Snapchat) October 10, 2014
Mark James, security specialist at security software firm ESET, added: "The very concept of Snapchat leads the user to believe that their photos or videos are deleted very quickly after they have been shared. In 2013 a complaint with the federal trade commission stated this was not the case and this info could in fact be retrieved after the time limit expired."
"The user, having installed these third party apps or using these websites, may or may not be aware that these images have been saved and still believe that they are instantly deleted. Sadly as more than half of Snapchat users are believed to be between 13 and 17, the potential for underage indecent material is extremely high," he added. ®