Samsung: Thought your PIPE was FAT? Check our 4.6 GIGABIT WiFi
Suck down a stream in mere SECONDS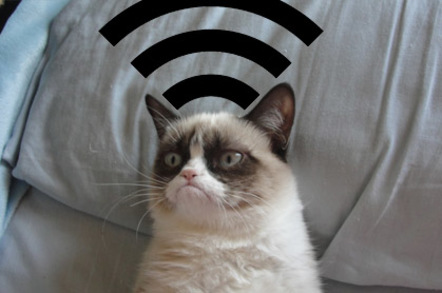 Samsung has claimed a serious WiFi breakthrough, saying it has "successfully overcome the barriers to the commercialization of 60GHz millimeter-wave band Wi-Fi technology" and will soon deliver products capable of wireless data transmission at a stonking 4.6 gigabits per second.
Samsung's canned statement says previous attempts to use the 60GHz band for WiFi have foundered because "as millimeter waves that travel by line-of-sight [have] weak penetration properties and is susceptible to path loss, resulting in poor signal and data performance."
By using "wide-coverage beam-forming antenna" and "eliminating co-channel interference, regardless of the number of devices using the same network" Samsung says it has cracked the problem and that products using its 802.11 ab standard could go on sale next year.
Early products to use the technology will include "audio visual and medical devices, as well as telecommunications equipment." Samsung also says the technology will be "integral to developments relevant to the Samsung Smart Home and other initiatives related to the Internet of Things."
As one would expect, Samsung is painting pretty pictures with scenarios like "a 1GB movie will take less than three seconds to transfer between devices, while uncompressed high-definition videos can easily be streamed from mobile devices to TVs in real-time without any delay."
That is, of course, when everything works well. And just how long that gigabyte takes to download to a device on a typical broadband connection – DSL remains the world's dominant broadband medium - isn't discussed.
Still, it will be nice to know that one can zap data within a home or business more quickly. Indeed, if the rapid beam-forming tech Samsung says makes this breakthrough possible is all it is made out to be, wireless at 4.6 Gbps could attract interest for applications beyond shuttling movies into smart tellies. ®
Sponsored: What next after Netezza?