The phoney war: EMM vendors joust in jam-packed market
Who will survive the inevitable bloodbath?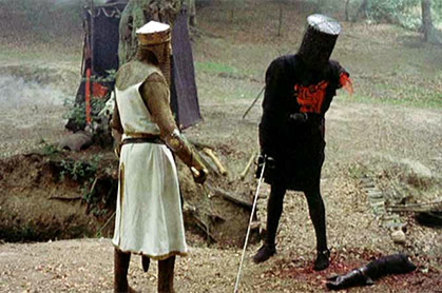 Analysis Charles Brett is principal analyst at Freeform Dynamics, The Register's research partner, where he covers end user computing, with a particular focus on the infrastructure.
In June 2014, we examined how Enterprise Mobility Management (EMM) was evolving and the ways in which the market was consolidating. Four months later this requires significant revision.
Not only does one serious player need adding but three others (two regarded as then being on the sidelines and the third having been one of the players) have made or are making choices that presage further consolidation to perhaps only four-to-five EMM players in the long term.
Before examining which vendors may dominate and why, it is worth re-emphasising that EMM goes well beyond Mobile Device Management (MDM). In the June analysis the key, if broad, categories that EMM embraces today were listed as:
Mobile Device Management (MDM)
Mobile Content and App Management
Integration tools for connecting to back end systems
Mobile Development (including both front and back ends)
Mobile App and Device Performance Evaluation
Identity, Security and Risk Management.
To these now might be added a more difficult aspect to consider. This is whether the current vendor approaches amount to a 'platform' or a collection of point solutions. This is, for most, more a matter of judgment than any absolute proof, with possible refining characteristics including:
A platform possessing a distinct sense of being architected as a whole where the various parts fit together in a functional as well as usable way; one acid test is whether the different parts share a coherent look and feel to all (or at least most) of the six capabilities listed above
A collection of point solutions is exactly what it sounds like. Individually, the parts may be better than in a platform approach but the penalty is that too frequently the integration of those parts is inelegant, if it happens at all, and an inconsistent look and feel execution frustrates productive use.
The platform approach is likely to win out in the longer term. Enterprises looking for enterprise-wide EMM solutions are unlikely to want to introduce a piece-part approach if a coherent, consistent alternative is available. In the past the six categories above were largely distinct. That should not be regarded as a practical option for the future.
The tyranny of choice
Let us return to the vendors. The Summer and early Fall has been a busy time. In June the list of primary EMM vendors included CA, Dell, Good/Boxtone, Fujitsu, IBM, Microsoft, SAP, Symantec and VMware, with Oracle and HP as notable 'not-yet' players. This list had one notable omission – Citrix which made itself a player when it bought Zenprise.
Such a list meant that enterprises had at least ten major software suppliers from which to choose, with another two waiting in the wings. In addition MobileIron IPOed. though not as financially heavyweight as any of the others, the company has a decent market presence that draws on its original MDM offerings.
Over the past months all the vendors have improved their offerings, often by acquisition and addition. But, most importantly, HP has made a choice, Oracle seems about to make one and RedHat has entered the mobility fray by acquiring FeedHenry, with its emphasis on mobile-to-backend integration.
HP has now committed to the VMware/AirWatch EMM platform. It sees value in focusing on the mobile apps and back–end application combination and it has longstanding ties to VMware's virtualization strengths. In effect HP is letting the AirWatch EMM platform handle the ever-increasing complexities of operating and supporting mobility within an enterprise. (Put another way, it has probably realised the cost of trying to become a realistic competitor in an already overpopulated marketplace would be very expensive and without guarantee of success.) A similar approach, if it happens as expected, could also make sense for Oracle.
If AirWatch-type relationships prosper there could be a further market consolidation of EMM solutions, though the process will be highly competitive. One executive has even been heard to suggest that this further round of consolidation would result in there being only four to five 'majors'. In his view these would include:
Citrix
IBM
Microsoft
VMware
None of these has yet reached EMM maturity. Citrix and IBM continue to blend what are, to date, mostly acquisitions (IBM with MaaS360 and others, Citrix with Zenprise and some of its existing assets) as they seek to create EMM platforms which are coherent and consistent. VMware is doing much the same with AirWatch, though largely allowing the latter to lead the way by refining its consistent implementation as well as adding end user computing aspects of VDI, etc.
Early days
In some ways Microsoft is the outlier here. Its InTune is today, by the standards of most of its competition, positively immature (read The Register's InTune review). But, like IBM, Microsoft has the reputation of 'eventually' producing market dominating products (think Exchange and SharePoint if not Windows Server).
That said, Microsoft may end up being the only major EMM vendor with a substantial mobile hardware focus of its own - which could mean it fails to provide the multi-mobile device support or neutrality that many enterprises will prefer. For some this will not matter: one airline executive has opined that 'when inTune is mature his airline would switch from its current EMM provider to Microsoft - because it was a Microsoft house'. Shades of Armonk re-written as Redmond.
Irrespective of whether you decide that Citrix, IBM, Microsoft or VMware or any other will be the EMM leaders in, say, two or three years, it is clear that the 13 (CA, Citrix, Dell, Good/Boxtone, Fujitsu, HP, IBM, Microsoft, Oracle, RedHat, SAP, Symantec and VMware) will consolidate in the EMM space.
To make it into a select EMM group with market-leading attributes all vendors are going to have work hard. Those that will eventually lead will probably emerge around the ones best able to deliver the coherent EMM platform on which enterprises can build, rather than around those with point collections of individually excellent EMM functions. In this context RedHat's new mobile-with-cloud initiative, based around its ability to deliver revenues from open source solutions, is an exception that could yet startle.
On balance it seems probable that this analysis will need further significant revision, and before that long. With so much changing, most enterprises should not commit to more than 12 or 24 month contracts, preferably adopting service rather than product purchases. ®
Updated: an earlier version of this article inaccurately characterised SAP's EMM offering.
Sponsored: Detecting cyber attacks as a small to medium business