IBM leaps aboard the software-defined stuff bandwagon
Big Blue banishes storage bleakness with blinding announcement blizzard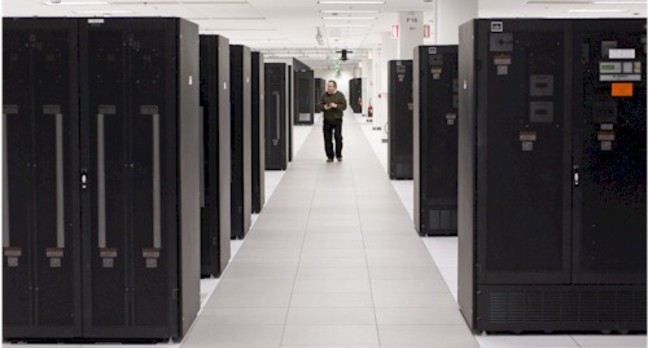 IBM storage is getting software-defined, with IBM seeing that concept as a way of better integrating its storage hardware and software assets.
Big Blue's Storage and Software-defined Systems general manager Jamie Thomas outlined a new storage deal at IBM's Enterprise event in Las Vegas, claiming the "new model will provide greater flexibility around how customers can receive, consume and explore different options for data storage."
The pertinent background for IBM is that storage software adoption is growing, as well as data, and that businesses need to get faster business insights. An enterprise's storage infrastructure has to deliver more data faster to the business' software so it can deliver better sitreps in the business data insight wars, so to speak, to the business LOB managers and overall execs. Storage software platforms can provide this quicker and more flexibly than hardware-centric platforms.
Thomas said: "The reality is that many of our clients are suffering from information overload," meaning that the traditional hardware-based and siloed storage model must evolve. In turn, according to Thomas, this means "providing flexibility to enable clients to choose the environment that best fits their needs, whether that is an integrated hardware/software solution through IBM, enterprise-class software on top of existing infrastructure or storage-as-a-service via the cloud."
IBM is, Thomas said, adopting a software-defined storage strategy, so its clients can combine previously siloed data management systems "to make it easier for organisations to retrieve insights in near real-time to create increased efficiencies."
Big Blue's software-defined storage will have three delivery models:
Storage delivered as Software: IBM Elastic Storage, SAN Volume Controller and Virtual Storage Center
Integrated software and hardware storage solutions: IBM Elastic Storage Server
Storage via the cloud: IBM Elastic Storage on SoftLayer
At the event IBM launched the integrated hardware/software Elastic Storage Server, a POWER-based system running Elastic Storage software, the renamed GPFS (General Parallel File System). This is IBM's stake in the Gluster/Lustre "fast access to large files" game; see DataDirect's GS7K for one competitor's stake, and Red Hat's Gluster cluster for another.
We understand that the on-premises storage array products, tape drives and libraries, legacy DS(n)000 arrays and the newer Storwize and FlashSystem arrays, will continue, perhaps with software-defined storage wrappers evolving to integrate them better with newer up-stack system applications.
A cluster of product announcements accompanied Thomas' keynote speech:
Data Engine for NoSQL - bringing together technology from OpenPOWER members Redis Labs, Canonical, Altera and IBM, this enables a significantly lower cost basis for deploying NoSQL data stores.

Combines Redis Software, Canonical's Ubuntu Linux, Altera's FPGA's and IBM's CAPI-enabled Power System S822L with IBM's FlashSystem 840.
Simplicity; one POWER8 server to be used instead of 24 Intel servers for a well-sized NoSQL store.
Many-fold reduction in infrastructure cost through this smaller footprint and associated energy cost reductions.
Clients can have larger NoSQL stores with 40TB of Flash within a single rack.

Elastic Storage Server on Power

Data-centric server-based storage system "that erases the artificial distinctions between servers, storage, compute, and data."
Combines IBM Power Systems, storage enclosures, disks and Elastic Storage with its RAID technology.
Scale to hundreds of petabytes and stream up to 15 GB/sec from a single system, with near linear performance improvement as you scale.

Elastic Storage for Linux on System z mainframes

Highly available, highly scalable ,cluster file system.
Non-disruptive capacity expansion and reduction.
Concurrent high-speed, reliable file access from multiple nodes in the cluster.
Continued data access even when the cluster experiences storage or node malfunctions.

TS1150 tape drive

TS1150 tape drive - store 2.5 times more data in the same space while improving performance compared to the TS1140.

Raw capacity: 10TB (JD/JZ media), 7TB (JC/JY media) or 2TB (JL media)
TS1140 raw capacity: 4TB (JC/JY media), 1.6TB (JB/JX media), 500GB (JK media).
700MB/sec 3:1 compressed data transfer rate. TS1140 max is 650MB/sec with compression.
Supports LTFS (Linear Tape File System).
TS1140 upgradable to new drive.
Data sheet here (pdf).

Storwize array enhancements.

Store 50 per cent more data in the same space with 6TB disk drives.
Encryption on the Storwize V7000 and V7000 Unified.
Improved Real-time Compression Store holding data in up to 80 per cent less space.

FlashSystem V840 enhancements.

Up to 2X faster real-time compression.
Supports iSCSI, FCoE, and InfiniBand,
Certified with SmartCloud Virtual Storage Center.
Five-year warranty (3 years, +2 years support)
A previous IBM storage GM had a flash-focussed strategy; now it's storage software-focussed, which is a better way of harnessing IBM's existing hardware and software storage assets. Thomas called it a bold strategy, but that was everyday presentational excess.
It's not really bold but it is inevitable, sensible, incremental and uses the flagship products to best effect whilst not abandoning the legacy ones.
All the wood behind one software-defined flight of storage arrows, as it were. Bold? Not really, but good and solid basic product marketing. With these messages and positioning, its reps and channel partners can sell more products and services. ®