Corporate crashes in UK IT channel drop back to pre-recession levels
Q3 insolvencies in Brit tech biz fall for 5th straight quarter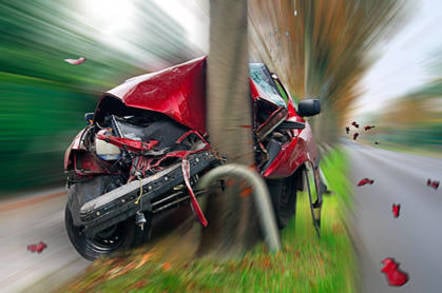 Channel fatalities are down for the fifth consecutive quarter as the local ICT sector growth and the wider UK economy becomes the envy of European neighbours.
The numbers of tech suppliers that went pop during Q3 was down by almost a quarter to 56 compared to the war stats from credit reference agency Graydon UK for the same period a year ago.
"We are back to pre-financial crisis level," said Alan Norton, head of intelligence at Graydon UK, "we've had very few large insolvencies that had a ripple effect and took down smaller businesses".
The sector navigated the choppy waters during the downturn and recession, with many reacting quickly by cutting their cloth accordingly. Interest rates, at a historic low, have also helped ease the burden on companies that are highly leveraged.
Research from Forrester forecasts UK tech spending growth of 4.9 per cent to £79bn for '14, by far the highest in Europe with the other major areas, Germany and France, estimated to rise 1.2 and 0.3 per cent respectively.
All segments of the UK IT industry are expected to expand: software by six per cent; comms kit by five per cent; IT outsourcing and consulting by seven and five per cent each; and computer kit by five per cent.
Other more specific supply chain stats from Canalys, suggests channel partners grew by eight to 10 per cent in Q2. Anecdotally, the third quarter was a relatively quieter sales period, but Edwards said the XP refresh was continuing to fuel PC purchases by enterprises of all sizes.
"Some countries in Europe are a lot more challenged," said Alastair Edwards, principal analyst at the market beanie, "France for example is experiencing a lot of [channel] churn at the bottom end of the market".
As is always the case, IT spending growth is linked to GDP, and while the UK economy is on predicted to grow 2.9 per cent this year, France is touted to have nominal GDP increases of between 0.9 to two per cent, and Germany is estimated to grow 0.8 per cent.
In a climb-down from its critical position on the UK government's austerity measures and fiscal policy, the IMF this week urged other countries in Europe to copy the strategy to cut their own debts. The IMF forecasts growth of 3.2 per cent for Blighty's economy.
This is not to say the IT will not have challenges ahead, the uncertain political outlook in Eastern Europe and the Middle East among them, as is the industry's gradual shift toward alternative tech consumption models.
"Most channel partners I talk to say they are struggling with the move to annuity services. But traditional channel players have an established resell business with sustainable cash flow to support investment," said Edwards.
He said the shift to greater service delivery rather than product resell is a "careful balancing act". ®
Sponsored: Minds Mastering Machines - Call for papers now open