VCE adds all-flash vBlock using EMC storage
When a problem comes along … you must not Whiptail it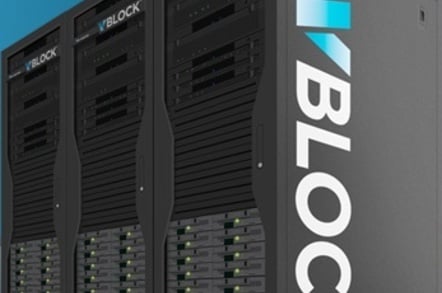 VMware, EMC and Cisco lovechild VCE has announced a slew of new boxen, including an all-flash variant that uses EMC's XtremIO kit.
That's a little odd seeing as we were told back in May, that a vBlock using Cisco's all-flash Whiptail kit was planned for the future. A further future, it appears, as the new "Vblock System 540" includes XtremIO, not Whiptail. And fair enough too: the new rig is positioned as an OLAP and OLTP data-cruncher, roles not even Cisco suggests is really Whiptail's go.
But just where a future Whiptail-equipped rig would go is hard to guess, as VCE has also revealed the "vBlock System 240", a low-ender packing the flash-capable VNX5200 and billed as a single-rack private cloud for smaller organisations. Perhaps the low-end option could sneak in a Whiptail in a future iteration?
Enough of the speculation, tempting as it is to imagine tensions within the overlapping VCE alliance. Let's instead consider the new high-end beast, namely "Vblock System 740", a three-rack bruiser with the ability to operate 500 Cisco UCS blade servers and 5,700 drives for up to 4 petabytes of storage – using EMC's VMAX3 – and a target market of mission-critical enterprise applications.
There's also a pair of new software offerings, in the form of "The VCE Integrated Solution for Cloud Management with Cisco" and "The VCE Integrated Solution for Cloud Management with VMware".
The former brings us back to contemplating competitive tensions within VCE as it offers a "pre-integrated, pre-tested and pre-validated software for IaaS and Vblock virtual resource provisioning based on Cisco UCS Director." The VMware-powered version of the code does the same, but using the "VMware vRealize" suite, the new name for the various management tools Virtzillla offers for control freaking vSphere and other bits of the enterprise.
Which means we now have a slightly bifurcated VCE. Make of that what you will.
VCE's also popped out two other new things, namely the "technology extension for EMC Isilon storage", allowing vBlocks to use the scale-out storage boxen. There's also a "technology extension for Cisco UCS compute" designed to let Vblock users tap into UCS rigs tuned for compute-intensive chores like heavyweight graphics crunching.
All of VCE's output on the new rigs couches their release in terms of an upgrade rather than a reinvention, and that assessment seems fair enough: the company's core proposition of mutually optimised and locked down rigs remains intact. Promised performance increases look incremental – and a result of Intel advances – rather than any particular change to Vblocks' innards.
This year's model, then, for a company that's quickly hit a billion-buck run rate, but which now also faces competition from over converged infrastructure players like Nutanix, Simplivity and – thanks to VMware's EVO offering – a gang of others. ®
Sponsored: Minds Mastering Machines - Call for papers now open