Hey, get the ZUCK up – let's unionize Facebook buses, cry Teamsters
Union demands better conditions, pay for shuttle drivers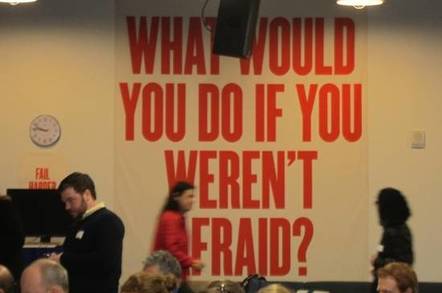 The Teamsters Union is lobbying Facebook to recognize a unionization of the company's bus drivers – the ones shuttling FB'ers to and from work in Menlo Park every day.
The union said in an open letter [PDF] to CEO Mark Zuckerberg that it was looking to include the private coach drivers in its Local 853 group in hopes of improving wages.
"While your employees earn extraordinary wages and are able to live and enjoy life in some of the most exclusive neighborhoods in the Bay Area, these drivers can't afford to support a family, send their children to school, or, least of all, afford or even dream of buying a house anywhere near where they work," the Teamsters claim in the letter.
The union is asking Facebook to recognize the drivers' union and lean on Loop Transportation, the company it contracts for bus service, to allow the union to negotiate on behalf of its drivers.
The commuter buses, which ferry employees from San Francisco and the East Bay to and from Silicon Valley, have become a symbol of the high cost of living and gentrification debates that have carried on in the region since the first dot-com bubble in the 1990s.
While Valley giants say the bus services increase worker productivity and help keep traffic jams in check, opponents have argued that the services encourage gentrification of previously diverse neighborhoods and use city bus infrastructure without payment.
Earlier this year, Google made a $6.8m commitment to support local bus service in San Francisco.
Drivers, however, have complained about the long hours and relatively low pay that comes with shuttling techies to and from their corporate campuses.
When reached by El Reg for comment, Facebook declined to talk about the letter.
The Teamsters, however, have plenty of strong rhetoric to deal out to Zuck and company.
"This is reminiscent of a time when noblemen were driven around in their coaches by their servants," the union wrote. "Frankly, little has changed; except the noblemen are your employees, and the servants are the bus drivers who carry them back and forth each day." ®
Sponsored: Practical tips for Office 365 tenant-to-tenant migration