Oi, lobbyists. Cough up your details – EU's new first vice-president
Mandatory register could put an end to tastroturfing in Brussels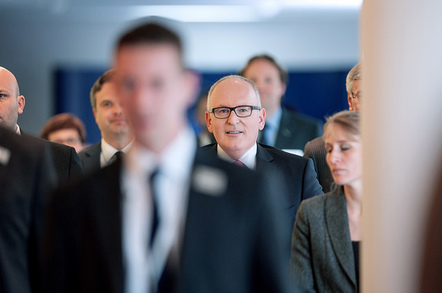 Tech lobbyists trying to water down EU laws may soon find themselves in the spotlight, if new EU Commission supremo Frans Timmermans gets his way.
The Dutch politician – who is set to take up the EC's number two spot next month with the official title "First Vice-President in charge of Better Regulation, Inter-Institutional Relations, the Rule of Law and the Charter of Fundamental Rights" – vowed on Tuesday to create a mandatory lobby register.
Replying to The Register after his pre-confirmation hearing today, he said that he would make it a requirement that anyone in Brussels who wants to talk to Parliament or Commission representatives would have to declare their interests.
The current voluntary register has more than 6,600 registrants representing around 30,000 individual lobbyists. Yet this is just the tip of the iceberg as some parts of the lobby industry and the lobbying law firms boycott the existing register.
Erik Wesselius, of Corporate Europe Observatory, said: "We know that a mandatory lobby register will face opposition from some who have vested interests in opposing greater lobby transparency."
As well as the commitment to a mandatory lobby register, all new commissioners have been instructed to ensure that details of all of their lobby meetings are published online.
According to LobbyFacts.eu, the biggest EU lobby consultancies on the voluntary register have a combined turnover of over €60m per year. The real figure is vastly more.
The mandatory register may go some way to eradicating so-called "astroturfing", where big business hides behind innocuous-sounding association names (such as the European Privacy Association (EPA) which is backed by Google, Microsoft and Yahoo!) but new rules will be needed to ensure that the information on the register is accurate, something not thought to be the case with the current register.
Apple claims it only employs four people to lobby the EU and spends just €250,000, while Facebook only employs two people and spends €450,000 per year… which seems highly unlikely. Microsoft, meanwhile, spends more than any other tech company on lobbying the EU - €4.75m per year. Siemens spends €4.35m, Huawei €3m, Telekom Austria Group €2.75m and Google €1.5m. ®
Sponsored: Minds Mastering Machines - Call for papers now open