Something will happen in Google 'dominance' probe. Just don't ask me what - EU antitrust chief
Hello law, meet tech. You might need some help keeping up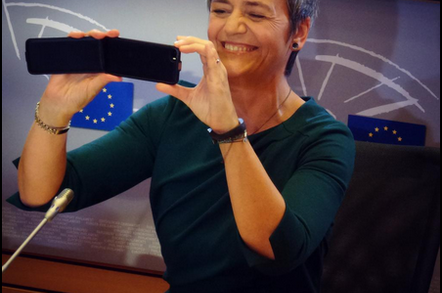 Europe's new Competition chief has vowed that there will be next steps in the antitrust probe into Google's alleged "abuse of dominance" – she just doesn't know what they are yet.
Margrethe Vestager was up in front of the European Parliament in Thursday's round of Commissioner-designate grilling.
In response to a question from Ramon Tremosa MEP, who asked whether Google will receive a formal Statement of Objections – the first step on the road to a fine – Vestager said: "There will be next steps, but I don't know yet what they will be concretely. This is a classic case, [Google] is a company with a huge, huge, huge market share and we have complainants of all sizes. I do hope we don't have to prolong this antitrust investigation with another."
Danish Vestager repeated many times that competition enforcement must be agile in relation to the fast moving tech sector, and won some approval from the room by recognising that "big data is the new currency of the internet".
Her predecessor Joaquin Almunia has been widely criticised for his handling of the Google case, which revolves around how the web giant appears to favour links to its own services over rivals in search results. He has three times tried to settle with the search behemoth. Google is also accused of imposing anti-competitive contracts on advertisers, and of scraping content in particular from travel and review sites to use on its own site.
But Vestager said she would not be drawn into US-bashing or the use of the Google case to undermine internet governance. "Our investigations are fact-based and not emotional or based on ideology," she said.
Vestager was also asked what she thought of the investigation into Apple's tax arrangements with Ireland where there is a suspicion that the fruity firm may have gained an unfair advantage.
"I think this is a very serious issue, because the majority of companies pay their corporate tax and they have to look at these large companies [avoiding it]. I am going to continue the work of Mr Almunia to throw light on this issues," she replied.
Block Exemption Regulations – where special exceptions to state rules are made in special cases for organizations – were also raised, and Vestager said that as internet access is so essential, that it is right that it should benefit from exemptions.
The final tech issue that she tackled was the question of over-the-top services and disruptive apps, such as the instant-messaging apps that are threatening to resign telcos' SMS businesses to the history books all the while using the telcos' networks.
She agreed that some of the new digital services do create new forms of competition but said "even if these are at a price to some of the incumbents, I think that's good as long as it's fair". ®