One million people have bonked on London public transport
They are doing it underground!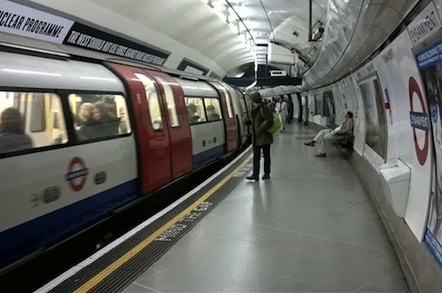 It seems that travellers on the London Underground are much more likely to pay by bonk with their contactless credit card than those on the buses.
On the first day of accepting contactless credit cards on the tube, TfL saw 128,000 journeys from over 600 of the 652 stations which take Oyster cards. That number has now reached over a million with a split of about two-thirds (785,000) of the bonkers on the bus and a third (375,000) on the tube.
That's something of a feat as bus-bonking has been allowed since the end of 2012 and you've only been able to do it on the tube since 16 September.
The publicity around paying without touching on the underground trains has seen an increase in those people who've taken to using contactless credit cards on the buses, with buses putting a 10 per cent increase on tapping travellers as a result of the Tube taking the cards. Contactless payments now make up three per cent of all pay-as-you-go journeys on the network.
Shashi Verma, TfL's director of customer experience, said: "It's fantastic to see such a huge number of our customers choosing to use contactless already, providing a further convenient way to pay for their travel and highlighting the capital's position as a world leader in transport ticketing, technology and customer service."
Card clash is being closely monitored and customers are being automatically refunded when they may have accidentally touched more than one card on a reader and paid with a card they did not intend to use.
The first day of contactless saw 1,724 instances where customers may have accidentally paid with a card they did not intend to pay with, or around 1.3 per cent of the journeys made using EMV cards. TfL says that all (detected) instances of accidental card clash have been automatically refunded, which means customers need not take any action. ®