Apple is GOLDBRICKING IT: BEHOLD the iPad Glister-Slab
New fondler set to come in Midas form, whisper sources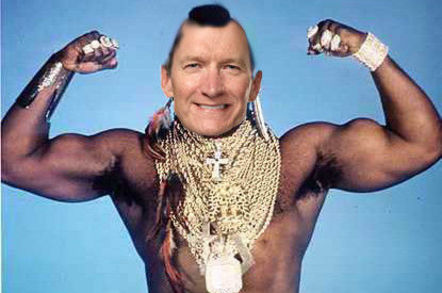 Apple is rumoured to be preparing to unleash a blinged-up golden iPad to satisfy some perceived consumer demand for ever more ostentatious devices.
Perhaps suspecting the fanboi world has adopted the sort of goldlust more associated with Mr T than Mr Cook, the fruity firm is reportedly planning to give its new iPad Air 2 the Midas touch.
As well as the blingslab, Apple may also be preparing to introduce an iPad with a 12.9 inch screen, which is almost the same size as the basic 13 inch Macbook display.
The rumours have not been officially confirmed, with Bloomberg citing the usual mysterious "people familiar with the plans".
Tim Cook is riding high at the moment, after flogging a record ten million units of the iPhone 6 and 6 Plus in the weekend after launch.
Before that, the fruity führer was roundly criticised for failing to introduce a new product line since Steve Jobs went to rest among the heavenly iClouds.
He's now introduced the Apple Watch, which is being aggressively marketed in a bid to colonise the wrists of fashionistas the world over (although we all know the usual Apple ding-dongs will want one too).
Fanbois have already been treated to a gold iPhone 5S, which was so popular it flew off shelves last year and went on backorder for weeks, and even months, in some areas. ®