Vodafone to stock BlackBerry Passport – on sale tomorrow
You Canuck order it today (sorry)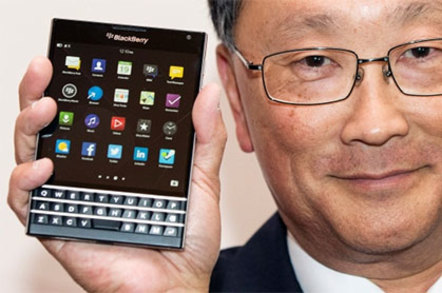 The new, interesting and really rather good Blackberry Passport will soon be available to Brits on Vodafone. That is to say "will" rather than "is" as Vodafone isn't taking pre-orders for the device, which will go on sale tomorrow, and there is currently no pricing information.
Two attempts to order an upgrade – online and over the phone – as a Vodafone business customer were unsuccessful. The online chat suggested that we log in tomorrow. The upgrade line claimed that it was still subject to negotiation between Vodafone and BlackBerry. This does not seem to be the case and it's clear the deal has been done.
As an indication of price, the online retailer Expansys, which is owned by the Dragons' Den's Peter Jones, has the Blackberry Passport in stock at £530, the same price as Selfridges "exclusive". You'll also find the devices to pre-order from Carphone Warehouse Dixons Carphone for delivery on 20 October from £30 a month.
Despite the general slide in the fortunes of the company formerly known as RIM, Vodafone has stocked all recent BlackBerry phones, much loved by corporate IT types for their security ratings, so it's no surprise to find it in the portfolio. What is a welcome surprise is that there is so much excitement about the new Canadian phone and in an environment where everyone is just that little bit bored of incremental Samsungs and iPhones, the Passport could be going places.
We'll update the pricing if and when Vodafone gets back to us. ®