Canberra drone team dances a samba in Outback Challenge
CSIRO's 'missing bushwalker' found and watered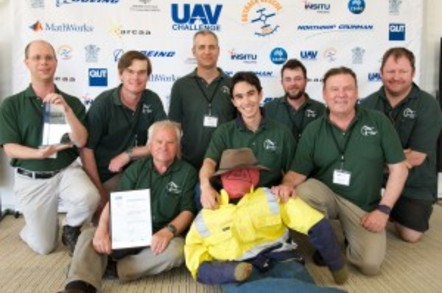 CSIRO has, for the first time, dipped into its pocket and paid out to drone-makers who successfully completed its annual UAV challenge.
For each of the past eight years, the science body has offered prizes up to $AU50,000 for anyone who can locate their "missing bushwalker" (dubbed "Outback Joe") and drop water to the target. The dummy was always within 4km of the Kingaroy, Queensland airport where the challenge took place, and entrants were given a 2.5 km by 1.5 km search-area space to indicate where Joe was.
This year's winning team, Canberra UAV, has had a measure of success in the past. In 2012 the group located the dummy acting as the challenge target, but that time around, the bottle of water landed 1,000 metres away from Joe.
This time around, the group didn't miss a trick. Canberra UAV's "Gang Gang" entrant located Joe, and its water-bottle drop landed just 2.6 metres away from the target. The group was also the second-quickest to achieve the drop, taking 41 minutes. Team Thunder, another Australian team, located Joe in 34 minutes but its drop went awry, landing 68 metres away.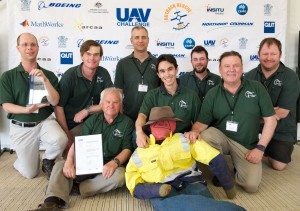 The Canberra UAV team, from back left: Stephen Dade, Andrew Tridgell of Samba fame,
Chris Gough, Matt Ridley, Grant Morphett. At front are Jack Pittar, Jono Parrott, Greg Oakes and Joe.
As well as accuracy, Gang Gang raked in the points by running autonomous take-off and landing under computer control, with no manual intervention. Gang Gang is an off-the-shelf unit from 3D Robotics, a 14 kg unit with 2.6 metre wingspan, heavily modified by the Canberra UAV team.
Canberra UAV beat off competitors from 16 teams, with international entrants from the US, Canada, the Netherlands, Switzerland, Poland, France and Colombia. ®