U-blox Internet of Things radio okayed by AT&T
3G module goes mainstream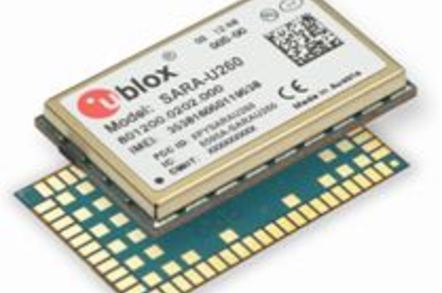 The Intel-powered mini 3G radio module from u-blox has taken a step towards commercial Internet-of-things viability, with AT&T announcing it's certified the kit for use on its network.
The certification means OEMs can start designing products using the SARA-U260 module, part of the SARA-U2 range announced in late August.
Applications the company cites for the module include "tracking boxes, usage-based insurance devices, smart metering, wearable electronics, as well as connected fitness watches."
While nobody's going to start streaming videos to vending machines using the device's 3G 7.2 Mbps down, 5.76 Mbps up communications, the geographic coverage of 3G makes it attractive for system developers. It also creates a nice retirement income for 3G networks, as carriers and mobe makers push users towards 4G services.
The 16 x 26 mm module supports TCP/IP, UDP/IP, HTTP and FTP protocols, along with the auto industry's eCall and ERA/GLONASS protocols, along with A-GPS and the company's own "CellLocate" hybrid positioning technology. ®
Sponsored: Becoming a Pragmatic Security Leader