Reg hands portable Sinclair ZX Spectrum to lucky compo winner
Monday sunshine for tech consultant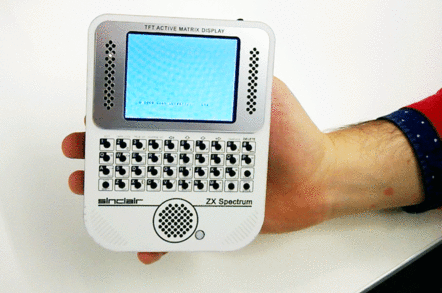 The lucky winner of the unique portable Spectrum is Martin Ryan.
He gets the device built by elite hardware hacker Ben Heck, a Sinclair ZX Spectrum that has been taken apart, modified and put back together again in a way that none of the original designers could have prophesied*.
This means Martin will be able to play Manic Miner on the underground and Jet Set Willy sitting on a plane – something no 1982 owner of a Spectrum could have dreamed of.
When we called Martin to let him know that he'd won, he was delighted. He said: "That's good news for a Monday."
The competition has been one of our most successful, with nearly 1,000 entrants, but it's great that Mark won, as his first computer was a ZX81 and he's a technology consultant for large retailers.
The correct answers were:
Alan (now Lord) Sugar called the Spectrum a "Pregnant Calculator". Amstrad subsequently bought Sinclair.
Richard Altwasser left Sinclair to start Jupiter Cantab Limited in Cambridge, which launched the Forth-based Jupiter Ace computer. He did later work for Amstrad – but after the CPC 464 was produced.
Personal Computer World magazine used Chimpanzees on the cover when reviewing new Sinclair machines. This is because the editor, David Tebbut, who reviewed the ZX81, had gone on holiday and the art editor had thought it would be fun to run the cover with a chimpanzee and the line "Editor Benchtests the ZX81". The chimps stuck. ®
* Geddit? (Richard Altwasser, the original designer, has now gone into the Church)