Pawsey powerhouse schedules first projects
Petascale punters get busy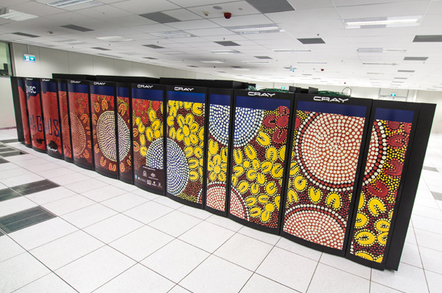 Pawsey's petascale powerhouse has gone through its commissioning cycles, and its operators have announced that they've granted 90 million CPU-hours to the machine's first research users for the period September to December.
Magnus, the eight-cabinet, 35,000-core Cray XC30, is based on Intel's Xeon E5-2600 v3 processors and has 95 TB of memory. The Pawsey Supercomputing Center installed the last upgrade to Magnus during September, embiggening the iron to break the petaFLOP barrier.
It was a rollout that got researchers excited, with Rebecca Hartman-Baker (co-ordinator of the call for proposals to be among the first users of the system) saying there were nearly three times as many requests for time as was available.
Hartman-Baker says projects selected under the "Petascale Pioneers" program include geoscience, astrophysics, chemistry and bioinformatics. Fourteen proposals were chosen as projects that wouldn't fly without a petascale machine, Pawsey said in a media release, with another three "more experimental" applications also approved.
The approved projects cover Western Australian, national, and international collaborations.
Each of Magnus' eight cabinets carries 48 four-node blades. Each node has two 12-core Haswells at 2.6 GHz, with three cabinets of Cray Sonexion 1600 Lustre storage appliances, and the company's Aries interconnect providing 72 Gbps storage performance per node. ®
Sponsored: Becoming a Pragmatic Security Leader