Netflix bullish after six-country European INVASION
One-third of all homes? It could happen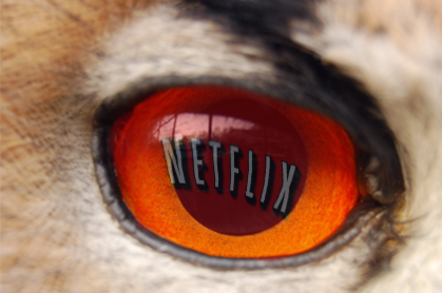 By any measure, Netflix's European expansion – adding six more countries – could not have gone better, although this still does not mean the operator will achieve its bullish forecast of penetrating one-third of all homes within seven years of launching in every market.
That almost hubristic forecast will depend on factors yet to be determined, such as whether Netflix acquires premium sporting rights to complement its current diet of older window movies and TV shows, admittedly with increasing numbers of original productions.
But for now, Netflix can be content with its European launch, having added France, Germany, Austria, Switzerland, Belgium and Luxembourg to the UK, Ireland and the Nordic – countries where it was already present.
The operator even managed to entice Bouygues Telecom to break ranks in France by agreeing to distribute Netflix's subscription video on demand service to subscribers of its Android box, called Bbox Sensation. Other French operators, such as Orange, are holding to the country's party line of refusing to distribute Netflix while the operator is legally avoiding payment of the country's audio-visual tax by operating out of Amsterdam in the Netherlands.
This tax is supposed to prop up the indigenous France film industry, but reluctance to distribute Netflix has also been evident elsewhere in Europe, with only Virgin Media in the UK and Com Hem in Sweden the main exceptions. However. there are other signs that commercial reality will force Netflix onto other pay TV platforms, with Deutsche Telekom having already announced it will be available as an app on its IPTV platform Entertain.
Already there are signs that Netflix will not be confined to the internet, but become an established content source on broadcast platforms, rather as Sky has.
The European expansion also appears to have been an immediate commercial success, judging from early data on traffic. Netflix accounted for seven per cent to 10 per cent of all traffic on Belgian cable operator Telenet's network over the last weekend, just a day after the launch, according to the operator, although there is the caveat that the service is free for the first 30 days.
However, conversion rates to paid subscriptions have averaged over 90 per cent, so extrapolating from other countries such as the US – where almost half of all internet traffic is Netflix – at least five per cent or just over 200,000 Belgian homes will be paying subscribers within a month.
Netflix co-founder and CEO Reed Hastings compared his company's growth trajectory to that of many traditional cable networks in its shift from licensed to original programming, speaking at a CTAM (Cable and Telecommunications Association for Marketing) Europe EuroSummit in Copenhagen to coincide with the European expansion launch. He said that moving to more territories would help monetise and do "more original content", but with no mention yet of acquiring premium sporting rights.
"Our pattern is for the next few months, now that we've just launched, we'll spend a lot of time in France and Germany trying to learn, improve and adjust. Then we'll decide next year to either expand more in Southern Europe, central and eastern Europe, so we're not yet sure," said Hastings.
At that same CTAM Eurosummit, Hastings outlined his ambition to reach one-third penetration in all markets within seven years of launch, which would mean passing the 100 million subs mark by 2020 – even if the operator stuck just to the countries it is present in today.
In the US, it has already passed that mark, so the major growth would come elsewhere, with the target being around 9.5 million subs in the UK, 11.5 million in Germany and almost 25 million in Brazil for example. If Netflix did make the target and was by then a full blown pay TV operator offering live content, then it would almost certainly be the largest in the world, outstripping the likes of Comcast, Sky and DirecTV by some distance. The biggest rivals in terms of numbers may then be in China, where there are already about 290 million digital TV homes, more than twice as many as in 2010.
Copyright © 2014, Faultline
Faultline is published by Rethink Research, a London-based publishing and consulting firm. This weekly newsletter is an assessment of the impact of the week's events in the world of digital media. Faultline is where media meets technology. Subscription details here.
Sponsored: Detecting cyber attacks as a small to medium business