Chip titan Micron shows off Elpida-fattened bottom line
Slurped Rexchip too...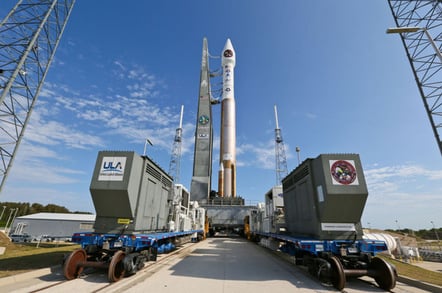 US semiconductor chipper Micron has boosted its memory and flash business revenues with its purchase of Rexchip and Elpida, announcing record fourth quarter and fiscal 2014 year revenues.
Fourth quarter revenues were $4.23bn, six per cent more than the previous quarter and, the Elpida boost kicking in, 49 per cent higher than fiscal 2013's fourth quarter. It made profits (GAAP net income) of $1.15bn, which is a pretty amazing 27.2 per cent of its revenues
Micron reported $16.36bn in full fiscal 2014 year revenues and profits of $3.05bn, a record for Micron. The revenues were 79.8 per cent higher tan a year ago, while the profits were 156.3 per cent higher. Cash flows from operations were $5.70bn for the year.
Mark Durcan, Micron's CEO, talked of favourable market conditions in the year and steady execution leading to sales volumes increases in his prepared statement, rather understating the fact that this is a business on fire. This is a company making products with impressive cost efficiency, DRAM and flash chips, basically, which people want and will pay good prices for.
The number of intelligent devices in the world is rising every year: from web-scale data centres, servers, desktops, notebooks, games consoles, tablets, smartphones, ordinary mobiles, network switches and routers to storage arrays in the data centre and little ones on the desk, machines with embedded processors, smart cars and Internet of Things devices. All of these need memory and many need flash. Micron's foundries pour out the chips these things need and more of them will probably be needed next year.
Here are a couple of charts to provide a broader picture: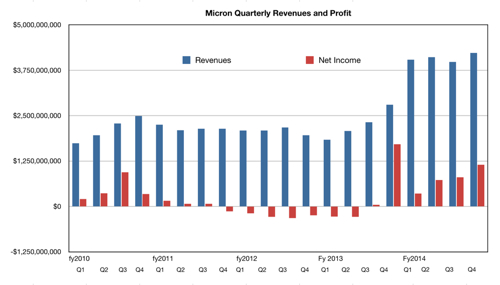 Click chart to get a bigger picture of Micron's quarterly results over the past four years
The quarterly revenue and net income history show that Micron had a pronounced dip in revenues and profitability from 2011 to to 2013, when recovery started as a move to better-priced products, amongst other things, paid off. The step-up effect on revenues and profits after the Elpida and Rexchip foundry purchases are evident in the first quarter of 2014. The exaggerated profit in the fourth 2013 quarter relate to the Elpida purchase.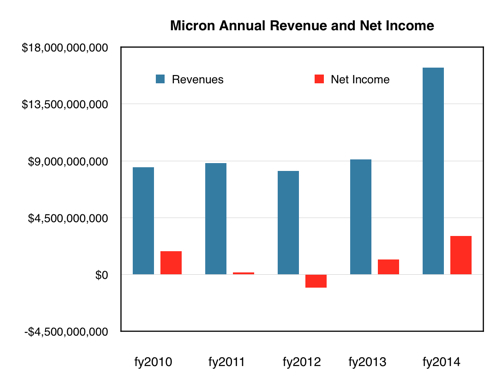 The annual revenues show the same 2011 - 2013 dip and the profitability recovery in fiscal 2013. The DDR4 memory transition is here and servers are taking on more memory as are smartphones. Micron has its layered or stacked 3D NAND technology coming as well as 3-bits per cell TLC NAND, representing a 50 per cent increase on capacity compared to mainstream 2-bits per cell MLC flash.
It is optimistic about the future, with the flash foundry owners nicely consolidated so as to avoid gloom and glut, and the 3D and TLC NAND transitions adding flash capacity without having to add more hugely expensive foundries. Flash and memory chip-making is looking to be a solid and stable arena from which to generate profits – for the next few quarters at least. ®