'Google is NOT the gatekeeper to the web, as some claim'
Plus: 'Pretty sure iOS 8.0.2 will just turn the iPhone into a fax machine'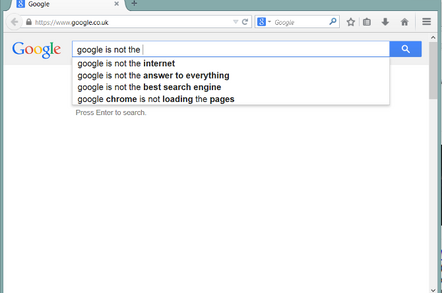 QuoTW This was the week when the depths of the internet proved even darker and more twisty than usual when Emma Watson, actor and UN ambassador, gave a speech at the United Nations about feminism.
The well-received oration pointed out that men also suffered from the restraints of gendered societal pressures and that feminism was about equality, so both genders should be involved through the "HeForShe" campaign. Watson said:
Both men and women should feel free to be sensitive. Both men and women should feel free to be strong… It is time that we all perceive gender on a spectrum, not as two opposing sets of ideals.

If we stop defining each other by what we are not and start defining ourselves by what we are — we can all be freer and this is what HeForShe is about. It's about freedom.
The internet being what it is, no one was particularly surprised when a website shot up online called www.emmayouarenext.com, apparently threatening Watson with the release of nude photographs in retaliation. The site featured the logo of 4chan – the previous host of stolen celebrity nude pictures – and a countdown clock of a few days.
In the midst of the righteous indignation which followed the site's appearance, everyone forgot to ask themselves if this was a real threat or an infantile internet prank.
Shortly afterwards, a "marketing firm" called Rantic claimed that it was behind the site and the whole thing was a ploy to help mobilise the masses into getting 4chan shut down. The homepage of Rantic's website, where the Emma Watson URL now led, said:
We have been hired by celebrity publicists to bring this disgusting issue to attention. The recent 4chan celebrity nude leaks in the past 2 months have been an invasion of privacy and is also clear indication that the internet NEEDS to be censored. Every Facebook like, share & Twitter mention will count as a social signature - and will be one step closer to shutting down www.4chan.org.
At the same time, 4chan posters were insisting that any leaks would not be coming from their community. One said:
I know there are several journalists lurking /pol/ - so I just want to say, when these Emma Watson nudes come out, IT IS NOT 4CHAN. This is a false flag by /whichever agency/, probably NSA or something.

4chan holds Emma in high esteem, and while most of us would fap like crazy to real nudes, it's not us hacking the cloud.

Thanks for listening. Oh, if by some rare fluke Emma Watson is reading this - many on 4chan respect what you're doing as a moderate, balanced feminist and we don't hate you like we hate the social justice warriors.
But even Rantic seemed suspect. Posters to Reddit's forums were claiming that both Rantic's site and the emmayouarenext.com site were hosted on the same server – and both were apparently linked to another site calling itself Fox Weekly, although it was not linked to the Fox news network in the US. One Redditor said:
The mainstream media have allowed themselves to be used in a viral marketing scheme.
Meanwhile, in Apple country, folks are definitely buying the phone, but it's still a bit unclear if that's a good idea or not. The week started with comments from Barclays analyst Ben Reitzes, who said that it didn't matter how many new Jesus mobes Tim Cook and Co. sold in the opening days of launch, because the numbers only reflected limited supplies. He said:
We caution investors that first weekend sales for iPhones is a meaningless figure since it really only represents Apple's supply. Demand is clearly there for the phones – in the tens of millions right now and significant demand will likely spill out of September into future months...

Anything above 10m units should be considered a positive surprise given limited supplies (represents about 11 per cent year-on-year growth over the opening from the iPhone 5S/iPhone 5C last year).
That view proved to be almost prophetic when Tim Cook announced the next day, in a very modest and retiring fashion, that the iPhone 6 and 6 Plus had sold 10 million units. Cook crowed:
Sales for iPhone 6 and iPhone 6 Plus exceeded our expectations for the launch weekend, and we couldn't be happier. While our team managed the manufacturing ramp better than ever before, we could have sold many more iPhones with greater supply and we are working hard to fill orders as quickly as possible.
By the end of the week though, problems were definitely starting to crop up. Apple had to recall its first iOS 8 update when it stopped people from being able to make phone calls or use Touch ID.
The 8.0.1 patch was supposed to fix bugs in the new OS, including the problems that ended up delaying the rollout of the HealthKit feature. Instead, users were left without any bars on their shiny new mobes, or, indeed, the older models that they'd upgraded to iOS 8.
One fanboi posted to the forum:
Just updated to iOS 8.0.1 on my iPhone 6 (Verizon). The update seems to have broken my connection to cellular service; the phone now shows "no service" and can't place or receive calls. Rebooting the phone doesn't seem to have fixed the problem. Anyone else? If this problem was caused by the update, I don't understand how Apple could let the update ship in this condition, without adequate testing: breaking customers' cell service was plainly a much bigger bug than any the update was intended to address!
While tweeters predict dire results for the future:
Pretty sure iOS 8.0.2 will just turn the iPhone into a fax machine

— Seth Fiegerman (@sfiegerman) September 24, 2014
And that's without even mentioning the whole bending thing…
Meanwhile, Google has followed Microsoft's example and ditched relations with the American Legislative Exchange Council, a climate change denying lobby group. Head honcho Eric Schmidt told NPR's Diane Rehm Show that when it comes to global warming, ALEC is not to be trusted:
Everyone understands climate change is occurring and the people who oppose it are really hurting our children and grandchildren and making the world a much worse place. We should not be aligned with such people. They are just literally lying.
Google later confirmed that the firm would not be renewing its membership of the group at the end of the year.
The Choc Factory was also in the news this week for its putdown of Rupert Murdoch and News Corp after the latter wrote the European Commission asking it to take a tougher stance on Google's search dominance. News Corp chief exec Robert Thompson had accused the ad giant of being a "platform for piracy", using its search power to quash the competition and undermine real content producers.
Google's rebuttal came in the form of a blog post addressed "Dear Rupert" and took the letter point-by-point, along with a couple of jibes at News Corp's British red-top The Sun. Global head of comms Rachel Whetstone said that the firm was not the pirate-loving place News Corp was making it out to be:
In 2013 we removed 222 million web pages from Google Search due to copyright infringement. The average take-down time is now just six hours. And we downgrade websites that regularly violate copyright in our search rankings.

We've invested tens of millions of dollars in innovative technology - called ContentID - to tackle piracy on YouTube.
And also denied the Choc Factory's "power" over the net:
Google is, of course, very popular in Europe, but we are not the gatekeeper to the web, as some claim.
As for that old saw about how Google's search results scrape content from the real, hard-working professionals and how that leads to to "a less informed, more vexatious level of dialogue in our society", Whetstone directed folks to an example of The Sun's front page:
People probably have enough evidence to judge that one for themselves :)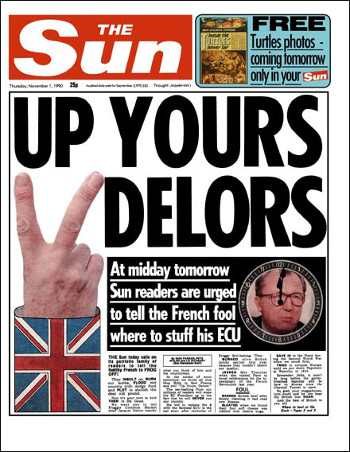 And finally, Blighty's government eavesdropping agency GCHQ has said that it employs 120 dyslexic and dyspraxic staff for code-breaking and counter-espionage because of their "spiky skills". The chairman of GCHQ's dyslexic and dyspraxic committee "Matt" (presumably a spooky pseudonym) told The Sunday Times:
What people don't realise is that people with neuro diversity usually have a 'spikyskills' profile, which means that certain skill areas will be below par and others may be well above.

My reading might be slower than some individuals and maybe my spelling is appalling, and my handwriting definitely is ... but if you look at the positive side, my 3D spacial-perception awareness and creativity is in the top one percent of my peer group.
®
Sponsored: Practical tips for Office 365 tenant-to-tenant migration