FAA clears swarm of movie drones for take-off
US aviation authority hands out 6 licences to vid, photo firms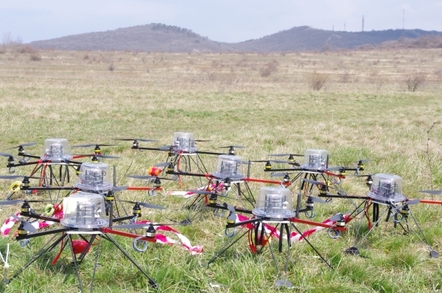 The US aviation authority has taken the first step on the road to the (potential) over-run of the skies with commercial drones – granting six video and photo production firms an exemption to fly drones for movie-making and picture snapping.
The Federal Aviation Administration (FAA) also said that it was considering 40 other requests from commercial entities. The regulator didn't say who those other companies were, but it's likely that at least some of the requests come from firms hopeful to start drone deliveries – regardless of how tough a task that's actually going to be.
The Motion Picture Association of America (MPAA) helped seven firms to put in applications to FAA for licences to use unmanned aircraft systems (UAS) for those sweeping panoramas of New York's skyline and the aerial shots of frantic car chases that movies need.
It's the first time that anyone has gotten clearance from the FAA for commercial drones, although public organisations like law enforcement agencies and firefighters were already allowed to apply for waivers to use drones in civil airspace.
"Today's announcement is a significant milestone in broadening commercial UAS use while ensuring we maintain our world-class safety record in all forms of flight," said FAA transportation secretary Anthony Foxx. "These companies are blazing a trail that others are already following, offering the promise of new advances in agriculture and utility safety and maintenance."
To get clearance, the companies offered to get drone operators with private pilot certificates, keep the drone in line of sight at all times and restrict flights to the "sterile area" of the set. The FAA added restrictions on night flights and an aircraft inspection requirement to these safety conditions. ®
Sponsored: Minds Mastering Machines - Call for papers now open