Federation fracture: EMC's post-Tucci future is either SALE or SPLIT
It's two minutes to midnight and everyone's hiding under the duvet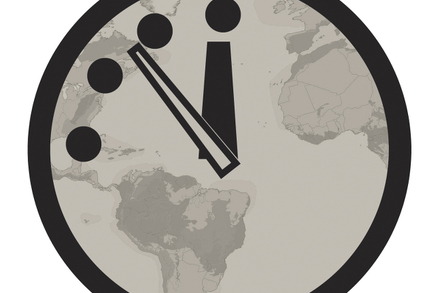 Comment Winter has come early for EMC, with hordes of barbarian activist investors pounding at the gates as CEO Joe Tucci's long reign comes to an end. Snowdrifts are building up against the boardroom's windows, blotting out the C-suite's previous sunny vista.
One immediate example of EMC's fortunes changing is the reported collapse of merger talks with HP and a potential strategic deal with Dell.
EMC is a networked storage company at its core and heart. It has ridden the surging enterprise shared storage wave with incredible expertise and verve, hiking to the top of the storage mountain, and making breath-taking acquisitions that added incremental revenue without damaging the central VMAX/VNX array businesses. Data Domain, Avamar and Isilon are only three examples. It also bought VMware, a monstrously successful purchase of a server virtualisation software business adjacent to its core storage focus.
Ironically, had EMC not bought VMware it wouldn't now be in the sour-tasting pickle it is now in.
EMC has also been developing its own Big Data/Internet of Things/Cloud software capability with Pivotal, another adjacent market to storage.
But the storage market itself is shifting, with moves to software-defined storage running on commodity hardware, storage in the public cloud weakening enterprise data centre storage array prospects, and a convergence of servers and storage to get faster access to data. These three things weaken the storage array business.
EMC has made advances into these areas. Some, like the Cisco and VMware VCE initiative, have been incremental, but others weaken the core array business:
ViPR, its software-defined storage play, allows commodity hardware to be used instead of EMC hardware (which is more profitable)
XtremIO flash arrays substitute for VMAX/VNX arrays for fast access, primary data storage
ScaleIO and VMware VSAN both promote server-side storage and weaken shared array storage
There is no potential storage array acquisition which would not damage VMAX/VNX/Isilon interests. Hybrid flash/disk arrays, such as those from Nimble, Tegile and Tintri, compete directly with VMAX and VNX. Buying object storage technology would weaken Atmos and, anyway, object storage does not look like another Data Domain-class opportunity.
Getting into server-side flash will directly affect the array business. Big Data storage business seems a steady rather than a dramatic growth opportunity. EMC and its investors have been spoilt by the brilliant run EMC has had – but now they can't see how that run will continue.
Joe Tucci, EMC's chairman and overall CEO, has constructed the federation of EMC Information Infrastructure. VMware and Pivotal and each has its own CEO. Who will hold court and keep these three CEOs working together and in line when Joe departs in February 2015?
Split, sale or slip into bed with someone else?
Some analysts and commentators say there are no good business reason why Pivotal needs to stay with EMC. Ditto VMware. The federation could be split asunder, the two non-storage outliers sold off and EMC distribute some of the money to shareholders while casting around for other growth opportunities.
Alternatively EMC could join with a server systems company to create the first real contender for IBM's crown. But which server systems company would want to merge with, or buy, a storage company with a mature core array business facing low growth and competing with the server company's own storage business?
This fundamental problem rules out Dell, HP and IBM, but not Cisco. Would Cisco want to join with EMC and inherit the low-growth array business problem? If this array business faced a short-term, cyclical pause before strong growth resumed, then yes. But strategists fear it faces a long-term, secular change to low-growth, perhaps no-growth or even declining growth because of the pincer squeeze from server-side storage and public cloud storage.
If Cisco strategists take that view, then John Chambers wouldn't want EMC. Not all of it, at any rate.
Servers and the public cloud (Amazon, Azure and Google) represent the two sides of EMC's problem, and being successful in either area weakens the core array business. Getting out if that rat hole is the big issue facing Joe T and his board. Possible exits could involve:
Selling off some of EMC's 80 per cent stake in VMware, whilst retaining overall control, to fund investor cash distribution. This though is a short-term fix. What does EMC do when the money runs out? Sell off VMware completely?
Break up the federation and sell off both Pivotal and VMware. Money goes to shareholders but what happens next? How does EMC go forwards?
Break EMC II into two pieces; array-side storage and server-side storage, with server-side storage run as EMC majority-owned subsidiary, like VMware
Take EMC private and do major surgery/re-building before re-emerging as a public company
Try out this view: EMC cannot grow in the storage business. All the growth opportunities directly weaken its core array business which means no growth until the new biz revenues overtake the old biz revenues, which will take years. That is the fundamental problem and Elliott Management's activist investor grip on EMC exacerbates the problem.
If EMC can't buy its way out of the problem, and can't escape through a merger, or by being taken over, then it has to sell some – or all – of itself.
Then try out this alternative view: there is no common, over-riding central vision of where the EMC federation is going. Pivotal doesn't need EMC II. VMware doesn't need Pivotal or EMC II and EMC II doesn't need either Pivotal or VMware. Yes, there are (or may be) synergies but the three federation members don't depend upon each other and thus don't need each other, not when push comes to shove. That implies EMC cannot sell itself as a single entity but could sell the three separate pieces.
Unless Joe can pull a magic rabbit out of his hat, federation fracture looks increasingly likely to be forced upon him. ®
Sponsored: Becoming a Pragmatic Security Leader