Broadcom looks to 25/50/100 G to drive new chip
'Tomahawk' sampling now, expect products 2015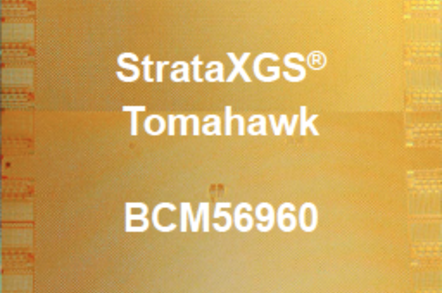 Broadcom is lining up its next assault on the cloud-scale Ethernet market, announcing the next iteration of its high-performance switch silicon due to appear in products in 2015.
Now sampling with customers, the StrataXGS Tomahawk has a couple of different aims in mind: delivering very high performance and high density switching iron, while embedding the kind of intelligence the company expects the next generation of data centre Ethernet switches will need.
By-the-numbers, the Tomahawk is a bit of a brute, a 7 billion transistor monster configurable from 32 ports of 100 Gbps, 64 ports of 40 or 50 Gbps, or 128 ports of 25 Gbps, claiming an aggregate 3.2 Tbps bandwdith.
That lines the chip up with Broadcom's involvement in the 25/50 G Ethernet consortium launched earlier this year, which specs interfaces for 25 Gbps single-lane or 50 Gbps dual-lane physical links.
Rochan Sankar, director of product marketing in Broadcom's infrastructure and networking group, told El Reg performance demands have reached a point where the data centre network is getting in the way of getting better performance.
"Switches are limited in the number of endpoints they can talk to", Sankar said, making it vital not only to lift the performance of switches, but their density.
The chip also lines up with the 25/50 Gbps Ethernet group's aim of giving performance a kick along without needing new cabling – getting higher performance than current 40 Gbps links on half as many copper or fibre lanes means switch builders will be able to get twice the connectivity density.
In the fabric layer, Sankar said, running up 100 Gbps links on the same number of physical lanes as 40 Gbps means 2.5 times the fabric performance. Meanwhile, getting more performance without having to ship in new switches and re-architect networks means sysadmins don't have to fret that their networks will cop extra hits to latency.
Apart from raw performance, the chip takes in management and control requirements, building BroadView instrumentation and FleXGS packet processing engines.
Sankar said the aim of BroadView is to let OEMs build rich analytics into switches. As well as watching over things like load balancing and "elephant flows", the instrumentation can track buffer congestion by the service or down to individual virtual machines, "predicting when congestion is occurring and detecting seasonality in congestion".
There's other handy tools: the Tomahawk control plane can simulate a front-panel port, and individual packets can be watched all the way through the switch pipeline.
"There's fast access to the internal switch state," Sankar said, "that lets an operator see the stateful information present in the switch, and counters can trigger on any on-chip resource."
In other words, instead of just knowing that packets are being dropped, systems can help oerators find out why the packet was dropped.
The company also highlights the programmability of the switch. There are user (in this case OEM) configurable flow processing, security, virtualisation, congestion management and traffic engineering functions.
With the data centre market prepping the transition from 10 Gbps server connections and 40 Gbps storage connections, upwards to 25/50 Gbps and 100 Gbps requirements, Sankar says there's strong potential for OEM shipments to drive Broadcom's 2015 performance. ®