Swiss cops BAN MASKS at meeting of rebellious United Nations IP staff
WIPO chief accused of DNA theft, cosying up to NORKS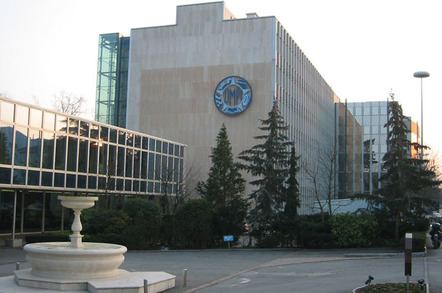 Around 150 UN staff met yesterday evening to protest over a continued lack of transparency at the UN's intellectual property agency WIPO and the sacking of its head of the staff council, Moncef Kateb.
Originally the gathering was to be held outside the main building, and frightened staff were offered masks. But an email sent to all staff by HR boss Cornelia Moussa warned that wearing masks at demonstrations was illegal in Switzerland. She also warned that the demonstration required police permission – something the staff council had already received.
Moussa said the staff council had been offered space inside the building – a worthless offer because the event was due to be addressed by former head of staff council Moncef Kateb – who has been banned from all WIPO property after being summarily sacked last week.
The Assembly of Member States – the five-day-long meeting of ambassadors who supposedly oversee the WIPO – takes place this week, and unions yesterday claimed the real reason for Kateb's suspension and firing was to stop him from speaking at the event.
Demonstrating employees were herded by police across the road to the Place des Nations, where they heard a speech by Kateb.
A participant told The Register that dozens of people had been in tears while Kateb spoke. He denounced "illegal practices" within WIPO and a continued "climat de terreur".
It has also emerged that the permanent representative from Estonia, Jüri Seilenthal, has written to all member state representatives on the issue, including the chair of the Assembly, Päivi Kairamo, ambassador and permanent representative from Finland.
The letter said that although the two investigations into WIPO director general Francis Gurry's behaviour had been completed in August, no official announcement had been made. Seilenthal wrote that rumours as to the results of these probes varied widely.
He said: "I believe the best and only solution in this situation is to send the reports of these investigations to all member states as they collectively exercise the oversight function of WIPO. As this concerns senior management, there is no other competent body to evaluate this situation."
Yesterday saw the start of the assembly, and our sources at the scene said representatives from country after country took turns to thank Gurry for all his work and success.
Estonian rep Jüri Seilenthal's letter is available here (PDF).
A tweet from UN staffer Ian Richards included a picture of the gathering.
WIPO staff protest firing of union head -blew whistle on DNA theft and irregular procurement http://t.co/NgTlpdwpjF pic.twitter.com/3ULeiYn1dc

— Ian Richards (@IanRep) September 22, 2014
®