Huawei's top UK mobile man walks out in shock resignation
Where could former Samsung man be off to next?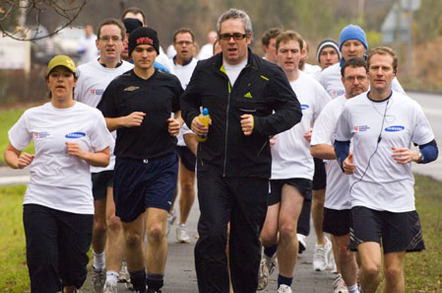 Mark Mitchinson, executive veep of Huawei's UK and Ireland consumer devices division, will leave the Chinese firm at the end of the month.
Mitchison headed the consumer devices division for three years, but trade magazine Mobile reports that he is to leave on 30 September.
Mobile speculates that he will be returning to his alma mater of Samsung, where worked from 1999 to 2010 and rose to vice president.
A spokesman from Huawei confirmed to Mobile that Mitchison was leaving, but denied he was off to a rival.
"Mark Mitchinson has taken the decision to leave Huawei UK and Ireland after more than three years as executive vice president for the consumer devices division," said the spokesman, who continued: "Mark has not taken up a role with a competitor of Huawei."
Outspoken Mitchison has extensive experience of the UK mobile scene, having been the group managing director of the Carphone Warehouse/Best Buy joint venture and head of sales for Nokia in the days when that meant something.
Huawei claims that Mitchison is not off to work for a rival, but Samsung has seen a lot of changes at its mobile and IT division recently. VP Simon Stanford left in the summer to be replaced by European enterprise chief Rob Orr – but that was reportedly reversed at the start of September. Mitchison, whose Huawei role mirrored that of Stanford, would be well placed to fill the gap at his former employer. ®
Sponsored: Minds Mastering Machines - Call for papers now open