Turnbull: NBN won't turn your town into Silicon Valley
'People have been brainwashed to believe that their world will be changed forever if they get FTTP'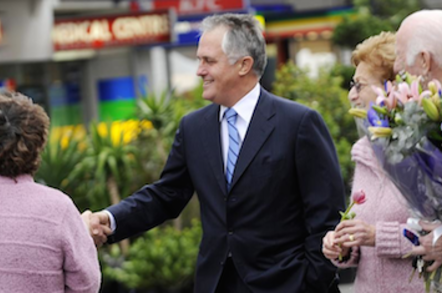 Australia's Communications Minister Malcolm Turnbull has again unloaded on his predecessors in government, saying the swift planing process for the National Broadband Network made it "the riskiest and most complex project the Australian Government has ever attempted to carry out.
In a speech delivered yesterday to the Corporate Turnaround Conference, Turnbull said previous NBN Co Corporate Plans represented "extreme optimism" and contributed to the many missed construction targets under the previous Labor government.
The speech also offers a list of rather alarming discoveries made by the incoming government, including:
NBN Co didn't know to a level of detail beyond the nearest million how many premises there were in Australia, or how many it needed to serve for the project to be finished
The address database NBN Co was using was so unreliable that the actual number of houses and businesses in an area was on average be 15 per cent fewer than the number in the database.
The NBN Co Corporate Plan had underestimated demand for the NBN in rural and remote areas by a factor of 2 to 3 - meaning the company needed to serve roughly 600,000 of the most expensive users to connect, not 230,000.
The Interim Satellite Service offering to RSPs was so poorly designed that overselling of capacity would degrade it to dial-up speeds – or that unless action was taken, NBN Co's permanent satellites faced the same risk.
Nobody inside NBN Co was quite certain of the real cost per premise of its fibre rollout - the most important cost in the rollout.
NBN Co had built its BSS/OSS environment - the complex IT systems which allow the network to be managed, faults logged, new services provisioned, and billing records kept - assuming no technology except fibre would ever need to be supported, or that choices had been made which limited its scalability.
BSS/OSS was dramatically over budget. What we didn't realise is that NBN Co had also committed to a further $1 billion of additional IT capex unrelated to those core systems.
The speech goes on to contemplate the many risks facing NBN Co, and Turnbull says "inflated political and public expectations" deserve to be listed among those risks.
Here's his reasoning:
"Fast broadband provides very large benefits for the economy and society, but it is a travesty that Labor deliberately conflated access to fast broadband with fibre, and was so irresponsible in exaggerating the impact of the NBN on people's lives.

Sometimes I fear that every mayor in Australia thinks the project will turn their town into Silicon Valley.  People with perfectly good broadband connections today – for example over HFC - have been brainwashed to believe that their world will be changed forever if they get fibre to the premises."
Turnbull then says " … that for the 50 or 60 per cent or so of Australians with good broadband today, the NBN will often be  indistinguishable from what they already have assuming their current line speeds are sufficient to run the applications they need and value. They'll wonder what all the fuss was about – and why the NBN is costing so much and taking so long."
"Let me conclude on that sombre note," he says. "Bringing a sense of reality to a beautiful dream is never going to invite popularity, and many people remain incensed that we've killed that dream to save a mere $30 or $40 billion."
There's one more thing, too: Turnbull acknowledges those who argue an exit from the NBN was another option.
To backers of that argument, Turnbull says "Leaving aside the political dimension, we were satisfied that the cost of shutting it down was at least $15 billion and likely quite a bit more." ®