Look out, SpaceX! Jeff Bezos' Blue Origin boffins tapped for US rocket launches
ULA to kick in cash to help end reliance on Russian engines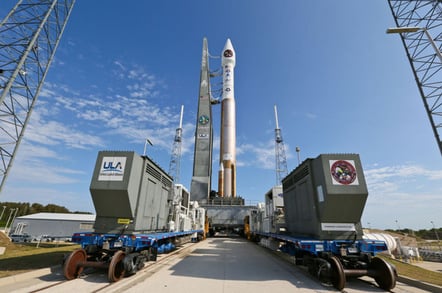 Blue Origin, the commercial space company formed by Amazon founder Jeff Bezos, has inked a deal with the United Launch Alliance (ULA) to jointly develop a new, US-built rocket engine for future space missions.
"This agreement ensures ULA will remain the most cost-efficient, innovative and reliable company launching the nation's most important national security, civil, human and commercial missions," ULA chief exec Tory Bruno said in a statement on Wednesday.
The announcement comes on the heels of news that NASA has awarded contracts to two US companies, Boeing and SpaceX, to deliver crew and cargo to the International Space Station (ISS), as part of the Obama administration's efforts to end the US space program's reliance on Russia.
Since the space shuttle's retirement, recent missions to the ISS have relied on Russian Soyuz spacecraft, but the Russia-US partnership has been threatened by political tensions over Russia's military incursion into Ukraine.
NASA has been eyeing ULA's Atlas V as a possible alternative to Russian launch vehicles, but that rocket has been criticized for using Russian-made Energomash RD-180 engines, which SpaceX has claimed violates international trade sanctions.
Under the new partnership, ULA will help fund development of the BE-4, the next generation of Blue Origin's rocket technology.
Blue Origin successfully tested its current model, the liquid hydrogen–powered BE-3, in December 2013, producing a peak 110,000 pounds (490,000 newtons) of thrust.
The planned BE-4 will burn a combination of liquid oxygen and liquefied natural gas – a commercially available form of methane – and will be capable of delivering 550,000 pounds (2.447 × 106 newtons) of thrust.
The BE-4 is not intended as a direct replacement for the RD-180 in the Atlas V. Rather, it will power ULA's next-generation launch vehicle, a successor to its Atlas and Delta lines, which will be announced at a later date.
ULA's new rocket will use two BE-4s in tandem to produce a total of 1,100,000 pounds (4.893 × 106 newtons) of thrust at launch. By comparison, the proposed Atlas V Heavy Lift Vehicle would only deliver 933,400 pounds (4.152 × 106 newtons) of thrust at launch.
Blue Origin has been developing the BE-4 at its West Texas facilities for the past three years, and the cash infusion from ULA should accelerate its pace. The companies now say that full-scale testing of the engine should begin in 2016 and it should make its first flight in 2019.
When it's ready, the BE-4 will be put into use for launches by both ULA and Blue Origin. ®
Sponsored: Quit your addiction to storage