Apple flops out 2FA for iCloud in bid to stop future nude selfie leaks
Millions of 4chan users howl with laughter as Cupertino slams stable door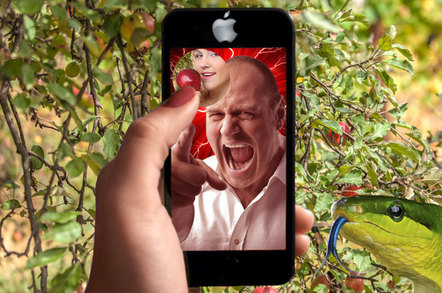 Apple has rolled out two-factor authentication to lock down iCloud accounts, a move designed to prevent a repeat of the Celebgate incident when smutty snaps of nude starlets were leaked from the bowels of 4Chan.
It is thought that hackers managed to get inside the celebs' iCloud accounts, which were chock-full of rude images. After all, what else are mobile phones for except snapping images of your naughty bits and broadcasting them to world+dog?
Few of us who viewed the stolen pics will forget the moment when Jennifer Lawrence popped up. But after the initial excitement of seeing the Hollywood heart-throb in the buff subsided, most of us probably thought whoever leaked the photos was a bit of a bastard.
Apple clearly agrees with this sentiment and wants to make sure that fanbois and fangurlz can happily share pictures of their genitalia without worrying they will end up splashed over the internet.
If you want to get busy with the soft focus in safety, click here to find out about the fruity flavour of 2FA.
The system allows you to nominate a trusted device. A verification code is sent by SMS message to the nominated gizmo, which must be entered properly if you want the iCloud heavens to open.
By the by, there was once a genre of music called two-step, which was popularised by Craig David and his infamous cry of "bo!".
So now you have a clue as to what this writer's iCloud password is going to be, although you might not want to see much more of him than is shown in the cartoon picture byline above. ®
Sponsored: Becoming a Pragmatic Security Leader