Permabit builds shrink-your-SAN dedupe box
SANblox compresses too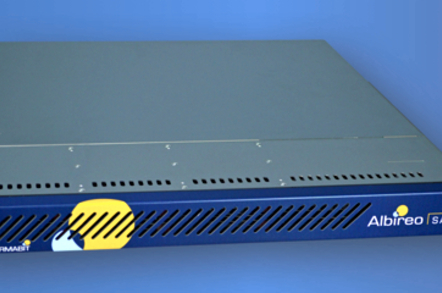 Permabit has built a front-end SAN box to dedupe and compress SAN data so it needs less disk capacity.
The company produces Albireo deduplication and compression software, which it sells on an OEM basis. The idea is to enable disk array vendors to improve the cost/GB of their storage so that they can retain a cost advantage over all-flash array vendors and deduping/compressing hybrid array startups.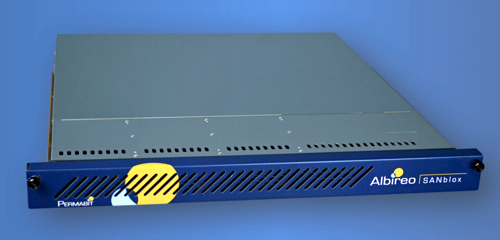 Permabit Albireo SANblox
Its Albireo SANblox is a 1U rack enclosure and connects to arrays by 16Gbit/s Fibre Channel, with a separate 1GbitE management interface link. Incoming data is immediately written to the SAN. It can sit in front of any Fibre Channel-connected SAN array.
Permabit says its software works at high speed and enables primary data deduplication, which is not generally possible with disk arrays due to data access delays.
The SANblox system has high availability with transparent failover and synchronous writes to assure data integrity is not compromised. It performs at 1,045MB/sec sequential read throughput and 800MB/sec write throughput.
In IOPS terms, the product can run at 230,000 4K read IOPS and 111,000 write IOPS. Sample data reductions found in testing include:
VDI thick clones - 50:1
VDI linked clones - 5:1
Analytics - large Mongo DB - 4:1
General compute - 6:1
SANblox can use Brocade and Cisco switches, and has been qualified for use with EMC VNX and VMAX arrays, NetApp's EF550, NEC's M Series, HDS' HUS, Dell SC8000 and Huawei's OceanStor S2600T.
Permabit is looking for SAN array suppliers to take SANblox on board as a tactic to prevent their installed base leaking away to lower cost/GB suppliers: "Prevent competitors with deduplication and compression peeling off workloads from existing SAN."
The product is available now through Permabit OEM reseller programmes and selected VARs. ®
Sponsored: From CDO to CEO