Drones CAN'T deliver goods ... oh. Air traffic control system backed by NASA, you say?
Yes - a (sort of) Google Car system for the skies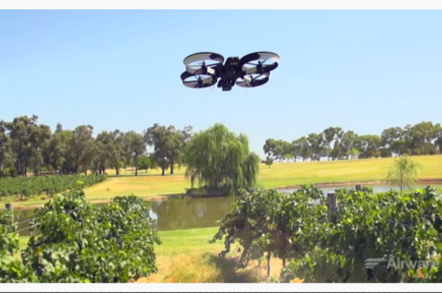 Recently we wrote about how developing city delivery drones was a fool's errand. Yet Startup Airwave is working with NASA to develop an air traffic control system for drones. Who's foolish now?
Airware was founded in May 2001 by Jonathan Downey, an electrical engineering and computer science graduate from MIT, and is based in San Francisco.
He worked at Boeing on a fully-autonomous helicopter, the A160T Hummingbird and founded Airware to sort out the disadvantages of expensive and inflexible autopilot black boxes.
Downey is a qualified pilot with a commercial multi-engined aircraft rating. In a blog he writes about starting Airware:
Commercial drones represent a revolution in insights – access to information that would otherwise be too difficult, dangerous, expensive, or downright impossible to get.
"I saw this revolution coming three years ago, when I started Airware. I understood first-hand what it was like to be left with three poor options for building a commercial drone. I could leverage a black-box autopilot (with my hands tied when it came to developing new capabilities), build the autopilot hardware and software myself from scratch (eventually, maybe, with enough money), or leverage one of many open source projects (and try my best to make it reliable, fingers crossed). I always thought there should be a better solution: a robust yet flexible architecture that I could build on top of."
Airware is building hardware and software and a cloud capability for controlling drones in an airspace. Its funding history is impressive:
$220,000 in a convertible note in May 2012,
$3m in seed funding in March 2013,
$12.2m in an A-round in May 2013, closely following on from the seed funding,
$25m in a B-round in July 2014.
Total funding stands at $40.42m and the relative short term over which it has been raised indicates a fast pace of business infrastructure expansion. Downey says: "In 2014, we will release the first version of our product for general adoption," and he's hoping an ecosystem develops around it, including "individuals and companies who are developing hardware, software and commercial drones for any application."
The product is called an Aerial Information Platform and it enables customers to tailor drones (unmanned aerial systems or UAS) "to any commercial application by seamlessly connecting airframes, actuators, sensors, payloads, and application-specific software."
Beta testing is ongoing, with a wide range of drone environments, from remote, hard-to-reach locations, surveying mining and agriculture operations to wild life conservation.
GigaOm reports NASA is working with Airwave on a drone air traffic control system. The two will test 4D trajectory modelling, collision avoidance and spacing between aircraft so that drones could safely fly in congested environments. Human involvement will be required in the early stages but a fully automatic system is the goal.
They envisage development taking four to five years, at which point commercial drone flights could be legalised in the USA.
Airwave says the two are working on an "UAS Traffic Management (UTM) system that will enable safe and efficient low-altitude UAS operations." In our view that requires two things:
The drone's aerial environment is 3D-mapped to a high degree of granularity: similar, perhaps to the roads mapped by Google's self-driving cars.
Every flying vehicle in that environment is controlled by the system. That's the only way possible, we think, to rule out controlled vehicles crashing into un-controlled ones.
Who does the low-altitude environment mapping is not something that's been addressed, and neither is the advisability of having a totally controlled airspace for drone operations. We've asked Airwave about the mapping and Kallman said; "Yes, eventually. But those types of operations are still a ways away."
Regarding the NASA deal, Jesse Kallman, Airware's Head of Business Development and Regulatory Affairs, said: "We're excited to partner with NASA because our technology will allow us both to work towards a common goal of enabling safe and efficient commercial UAS operations, in addition to supplementing the work we are already conducting in the areas of collision avoidance and GPS-denied flight, among others."
Why NASA? It has an Aviation Systems Division which maintains an air traffic control lab. In the aeroboffins' own words: "The ATC Lab uses a NASA-developed target generator, which allows it to function either as a control facility or simply as a traffic generator. The target generator provides high-fidelity, site-specific radar video mapping, as well as accurate flight dynamics and piloting systems that effectively recreate both real and proposed flight operations within any airspace worldwide."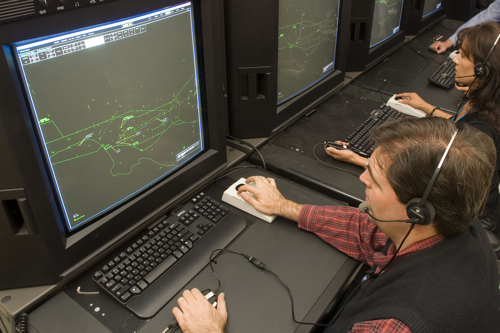 NASA ATC lab
Check out an Airware video with CTO Buddy Michini talking about the firm's initiatives: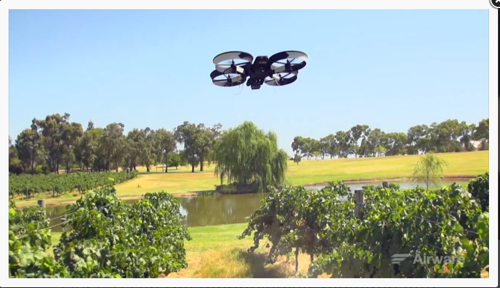 Click image to roll the vid
Airwave has a rather drippy website, containing guff like "Your Work is Our Passion," and technical info is hard to come by. But it appears to have a lead on anyone else on this developing market so watch this (air) space. ®
Sponsored: Becoming a Pragmatic Security Leader