Court flushes VirnetX's $368m check from Apple down the toilet
Patent damages payout kicked back to lower bench by appeals judges in US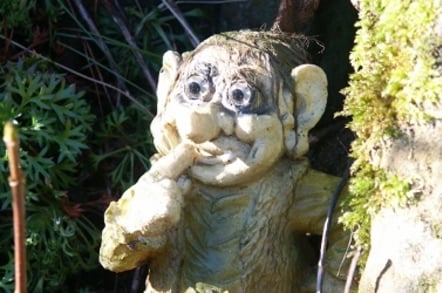 A US court has dashed a $368m windfall for technology hoarder VirnetX, which successfully sued Apple for patent infringement.
The Federal Circuit Court of Appeals in Washington today tore up [PDF] the infringement damages figure given by a jury in a lower court – and sent the case back for reconsideration.
A jury in the Eastern Texas court had found that Apple violated four VirnetX patents related to Facetime and VPNs, and awarded the hoarder $368,160,000 in damages. VirnetX recorded a $28.6m loss in 2013, so the cash would come in handy.
But now an appeals court has said that while the infringement findings could stand, the instructions given to the jury in Texas were erroneous and the number should be recalculated by the lower court.
The appeals court said two of VirnetX's VPN-on-demand US patents (6,502,135 and 7,490,151) that describe a "network protocol for secure communications with assured system availability" and the "establishment of a secure communication link based on a DNS request" were infringed by Apple's products.
But the Washington court sent back two Facetime-related US patents (7,418,504 and 7,921,211) to the lower court to reevaluate the wording of the protected technologies. Both of these VirnetX patents describe the same systems outlined in the '135 and '151 documents.
VirnetX tried to put on a brave face, reminding everyone that the infringement claims were ultimately upheld.
"While we are disappointed that the Federal Circuit has vacated portions of the judgment for further proceedings, we are bolstered by the fact that the patents were again found valid and that it was confirmed that Apple's VPN on Demand functionality infringes the VirnetX patents," CEO and president Kendall Larsen said of the decision.
"We look forward to readdressing the FaceTime infringement and damages issues as soon as possible."
Investors, however, were not so optimistic. VirnetX's share prices fell through the floor following the decision and remained down 40 per cent on the Nasdaq Tuesday afternoon.
This is not the first time VirnetX has used its patent portfolio as a means for suing big names in the consumer electronics market. In 2013, the company tried (and failed) to sue Cisco over VPN patents, but were able to extract a $200m payment package from Microsoft over claims of infringement in 2010. ®