Tech starfleet: Will EMC Federation survive a Tucci departure?
Six months until captain leaves the bridge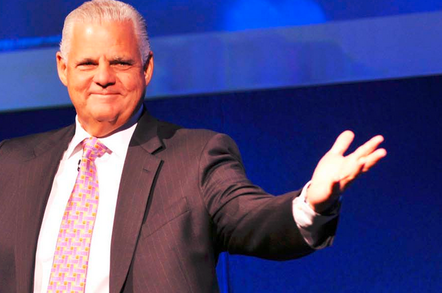 Comment Will the tripartite EMC federation set up by Joe Tucci survive his retirement in six months' time?
He is the chairman and overall CEO of EMC. The three federated businesses are:
EMC Information Infrastructure (EMC II) led by David Goulden who is also overall EMC CFO
VMware led by Pat Gelsinger
Pivotal led by Paul Maritz
Joe Tucci is set to retire in February 2015. The company is under assault by activist investor Elliott Management, which wants it to break up so as to deliver more shareholder value.
We asked various industry analysts and commentators what they thought might happen when Joe T retires.
Italian consultant Enrico Sognoretti said: "Joe Tucci's influence will have a long tail… Problems, if any, will arise in mid/long term IMHO."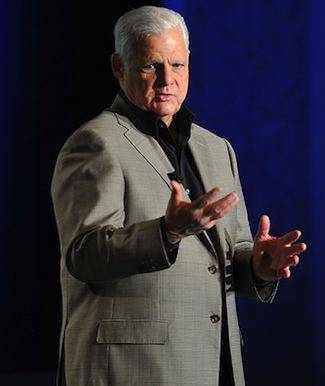 Joe Tucci
Wikibon's Stuart Miniman said: "The Federation model is the strategy and I haven't seen anything that limits it to Tucci. The Cisco/EMC relationship is helped by Joe."
He added: "HGST and peers (SanDisk) can sell to cloud giants and SPs (Service Providers) more than EMC/NetApp/HDS. Components move up stack. … The really big cloud guys don't buy storage arrays. You know Wikibon's Server SAN theme - kill the array."
So the federation could survive a Tucci departure and EMC is challenged selling storage arrays to cloud-scale giants.
Howard Marks, who runs the Deep Storage Net operation, said: "I think spinning off VMware is a short-term, make Wall Street happy play that's bad for EMC in the long run. [But] I think Pivotal and the rest can be spun off. Whether it happens depends on who Joe's successor is. If an outsider takes over, all bets are off."
If Joe Tucci is replaced by a non-EMC chief executive then the federation structure could well be changed.
Stephen Foskett said: "Joe Tucci is some kind of wizard. I don't know how he has managed to make so many good decisions for so long. [He] won't be easy to replace. Between activist investors, under-performing divisions, and VMware as competition, I can't imagine it will all stay together. [I'm] already hearing about battles between EMC and VMware internally. Maybe they both finally realised they are destined to fight to the death."
The take-away here is that, without Joe, the federation will fall apart.
ESG founder and senior analyst Steve Duplessie said: "Dunno. Could break up the Borg. Or try to keep it together but hard - Joe is unique. [There's] More value without EMC than with," which is a vote for a split.
Marc Farley, who works for file analytics startup Quaddra, and has wide experience in the storage industry, discussed the federation and Joe, commenting: "It's a brilliant strategy, able to weather many storms, including succession. Who will succeed is THE question, but all are replaceable. I see them bringing in a headliner from the outside: somebody with a customer perspective, a choice nobody can argue with, business more than tech at the helm. [It would be] different from Apple, which needed somebody close to Jobs. EMC will pick a customer advocate."
Here the net-net is that the federation structure will survive Joe's leaving and that an EMC outsider will be appointed.
An EMC insider said it depends on the board. Joe will stay on, as chairman perhaps, but not that long. Then the board will start deciding for itself. He doesn't foresee a massive break-up looming, but wouldn't be surprised by a battle for greater control between the three CEOs after Joe retires, he said.
Belgian storage blogger and technical consultant Hans De Leenheer said: "Two extreme things could happen: VMware could get consolidated into EMC now that Microsoft and RedHat get more attention from the partners. Secondly maybe Pivotal could get a complete spinoff instead of [remaining] under the federation. But [it's] more likely there will be just another shift of chairs at the highest level keeping things as is."
He added: "I am more concerned about those moves of the other tech giants slowly moving away from focussing on VMware first. Those relationships – FlexPod, Vblock – could blow up faster if strong leadership at federation-level shifts and that focus gets lost… Now that all vendors are building their own stacks, the market will be lost for a few years if there is no primary player. Strategically I see a strong leadership role for RedHat here, but I am afraid they don't have the competence of execution to dominate."
Some analysts think that the three parts of the EMC federation are worth more as separate entities than they are as the federated trio – that the value of the separate pieces is more than the value of the whole.
In that case, one says, EMC could sell off VMware, which is possibly at its peak valuation, and use the money to invest in an EMC-owned and operated cloud. He notes that Amazon has been taking business from EMC, and it, together with Azure and Google, represents a concerted, long-term and substantial competitive threat to EMC's interests.
Does Joe Tucci have the energy to do this? Our analyst told us that he thinks that David Goulden's strength and background in finance, and abilities as a manager, might equip him to recognise the opportunity here and move fast to strip one of his Federation members out for sale, and invest in a public cloud offering. He is not so decided about Gelsinger's fit with an overall EMC CEO role nor that of Pivotal's CEO Paul Maritz.
As we can see there is a wide spread of opinions.
According to a New York Post report yesterday (11 September), EMC has actively started exploring a VMware sell-off, giving into Elliott Management pressure, and could be looking at other asset sales. HP is identified as a potential VMware buyer, but that is likely pure speculation. EMC declined to comment on the report.
EMC bought VMware for $600m back in 2004 and it is now worth $42bn in market capitalisation terms. EMC has an approximate 80 per cent ownership stake.
What does the Vulture's storage desk think? EMC should sell off VMware and build its own cloud. ®
Sponsored: Webcast: Why you need managed detection and response