What's an Ultrabook? Now Intel touts 2-in-1 typoslabs to save PC biz
They're tablets! They're laptops! They've got no wires! Aw, just buy 'em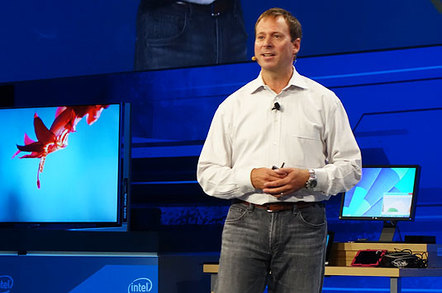 IDF 2014 The PC hasn't lost the race to mobes and fondleslabs, Intel says; far from it. It's just been waiting to be reinvented yet again, and Chipzilla is now ready with this year's flavor.
"Phones and tablets have been outstanding consumption devices, but we are creation people at heart," Kirk Skaugen, senior VP of the chipmaker's client group, said during a "mega-session" at the Intel Developer Forum in San Francisco on Wednesday.
In other words, while tablet hype is all well and good, most people still need something with a keyboard and a decent processor to do real work, and that's what Intel is priming its OEM partners to deliver.
The last time Intel claimed to be revolutionizing the PC, it was pushing Ultrabooks: slim and light, high-end MacBook Air wannabes, many of which had touchscreens. But Ultrabooks arrived at a price point too costly for most buyers – even Gartner said so – and many opted for cheaper, more traditional laptops instead, often with a tablet on the side.
While there were still a few Ultrabooks on display at IDF this year, however, Intel's latest obsession is two-in-one devices – typoslabs to you and me – which are essentially tablets that you can stick a keyboard onto and have them act like laptops.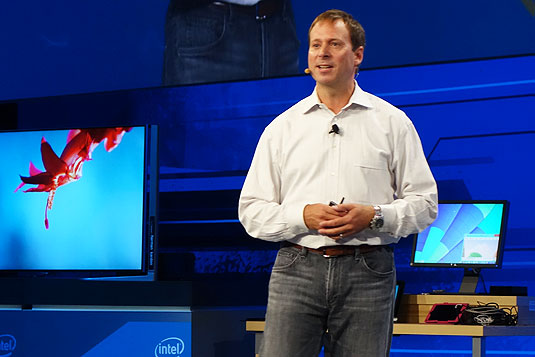 Intel's Kirk Skaugen said Chipzilla wants to reinvent the PC while giving ARM a battering in the mobile market
Onstage at IDF, Skaugen showed off a range of such devices that will soon ship from a variety of top-name vendors, many of which could be bent into more than one position to adapt to different use cases.
The new devices will have "dual personalities," Skaugen said. With their keyboards attached, they will act like ordinary laptops, but onscreen touch controls appear once the keyboards are removed.
This new form factor won't be limited to ultraportables, either, Skaugen said, noting that the HP Envy x2 two-in-one models due to launch in the fall will include 13.3-inch and 15.6-inch versions.
What's more, we're not just talking about consumer devices. Skaugen said Intel designed its fanless, power-sipping new Core M processors for business applications, too, adding, "Some of the thinnest two-in-ones in the world are actually business vPro machines."
Besides slim hardware, Intel's new chips also deliver improved battery life, Skaugen said. While a typical Core M device should be able to deliver eight hours of video playback, he said, some vendors are building devices with batteries behind both the display and the keyboard, which could result in run times as long as 20 hours.
And, of course, the new chips are faster. Skaugen couldn't resist a quick knock against ARM when discussing the Core M's performance, saying the new Intel-based devices would have "three times the performance of the best ARM tablets in the world."
Look, ma, no wires
But thinner, lighter, faster, convertible typoslabs is only half of the story. The other half of Intel's current PC vision involves getting rid of two annoyances that have plagued PC users since the beginning: cables and passwords.
"Centrino was really about eliminating a single cable, the Ethernet cable," Skaugen said. "Now we're looking at eliminating cables for display, docking, charging, and data transfer."
In the cable-less display department, Intel has been pushing its Intel Wireless Display (WiDi) technology for a few years now, the latest version of which supports the Miracast standard.
Skaugen said wireless docking and data transfer will be covered by Intel's work with the Wireless Gigabit Alliance (WiGig). Wireless docking will come first – meaning you won't need any cables to hook your typoslab up to printers and other peripherals – with high-speed device-to-device data transfer to follow.
Chipzilla is also bullish on wireless charging, and while Skaugen said it will still be a few years before you'll feel comfortable leaving your power brick at home, the company is working with partners to build the tech into a range of products, including snap-on covers that will allow you to charge current-generation phones wirelessly.
And just for good measure, you won't need any wires – or hands – to login to your PC in Intel's future, either. The big idea here is that Intel's new RealSense 3D cameras – which it will be pushing its partners to ship with their new two-in-ones – will be able to recognize you accurately enough to use your face instead of a password to login with, but Skaugen said some vendors will support fingerprint, palm-vein, and voice recognition, too.
All of this will arrive by the end of 2015, Skaugen said, though he added that the ship dates of the new technologies belie the amount of engineering that has gone into them.
"I personally think there's been more innovation in the last year in PCs than in the last ten years," Skaugen said.
Whether Intel has chosen the right battles in its latest reinvention of the PC, however, only time and the market will tell. ®