iPhone 6, Watch: Hate it or really hate it, Apple's now a $604.77bn biz
Up $17bn after iDay 2014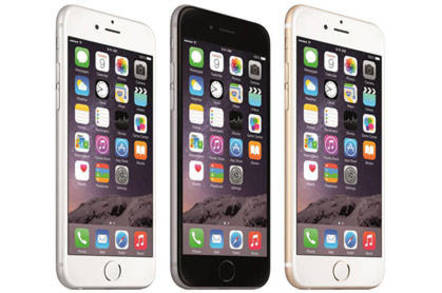 As Apple unveiled its iPhone 6 and "the Watch" on Tuesday, its stock price went on a rollercoaster ride to $102.92 a share, then plummeted to $96.71, and now – after just one day of trading – it has settled on $101.
That means, on Wednesday, Apple closed trading up $3.01 on the start of the day, a gain of 3.07 per cent. It was also up $1.62 on its $99.38 price at 10am on Tuesday, hours before the big reveal in California.
The $101-a-share price puts Apple's market cap at $604.77bn, up $17.6bn since the close of trading on Tuesday, making it the largest company on Earth by market cap.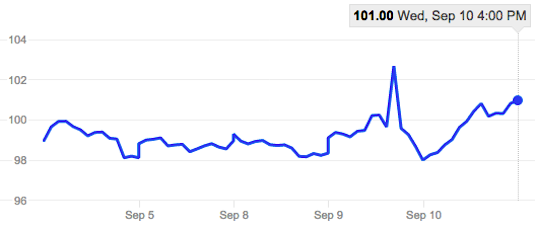 Apple's stock price on the NASDAQ in dollars post-iDay, September 9 ... Source: Google Finance
For those keeping track, that one day jump in Apple's worth was more than three times the current market cap for BlackBerry.
Analysts, including Goldman Sachs, are maintaining a buy position for Apple, according to Market Watch. The "vampire squid" reckons Apple will flog 62 million new iPhones in the final quarter of 2014, and 205 million in 2015, as expected.
Apple yesterday showed off two new iPhone models – the slightly larger 4.7in iPhone 6 handset and the phablet-sized 5.5 in iPhone 6 Plus – and the Apple Watch, a $349 peg looking for a hole.
The Cupertino giant said the new iPhones will hit the market on 19 September, while those wanting to get their hands on the Watch will have to wait a bit – that won't be arriving for consumers until the early months of next year.
Analysts were optimistic that Tim Cook's idiot-tax operation had caught up to Android rivals on the hardware front.
Reg readers were less than impressed by the new iStuff and its resemblance to similar offerings from Android makers. El Reg's Andrew Orlowski and Tim Worstall also tore through Apple's illusion: after all, it's just a phone and a phone accessory. ®
Sponsored: Detecting cyber attacks as a small to medium business