Shades of Mannesmann: Vodafone should buy T-Mobile US
Biting the bullet would let Blighty-based biz flip the bird at AT&T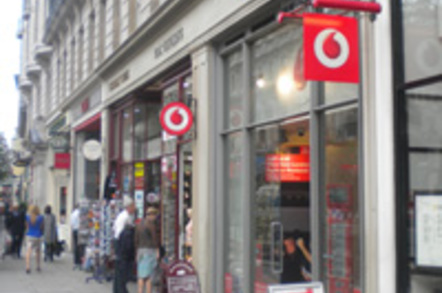 Comment When Deutsche Telekom bought One 2 One on the 6th August 1999 I sat in the press conference at the Dorchester hotel and heard the company say "We are the Germans. Today Europe, tomorrow the world".
The boss also reprimanded a journalist for switching off a ringing phone. "Answer it, where do you think our money comes from?"
Deutsche Telekom's delusions of superiority grew from thinking that because the company had done so well in building market share against Vodafone in Germany – which had bought Mannesmann in an audacious takeover – Deutsche Telekom could do the same thing here.
Of course, that didn't happen. T-Mobile never really threatened Vodafone in the UK. But its $35bn acquisition of Voicestream in the US in 2001 which created T-Mobile US made it look as though the Dorchester promise was coming to bear fruit. The bidding for that deal was crazy and the final value was way higher than predicted.
The sale happened in the middle of February, at around the time of what is now called Mobile World Congress, and I was discussing it on the 'plane from London to Nice with the CEO of Canadian telco Rogers.
We talked about how it would have been a much better fit for Vodafone than the Verizon deal, which meant Vodafone had an awkward CDMA territory in its portfolio and only a 45 per cent share, so the network never had Vodafone branding. I ventured that buying Airtouch – which led to Verizon Wireless – was a mistake.
A fellow traveller a couple of rows in front turned around to vigorously defend the Vodafone purchase. It was Alan Harper, then head of strategy at Vodafone. He explained that it had been fabulously profitable.
History says it's a good deal to make
And of course he was right. Vodafone bought Airtouch for $62bn in 1999 and sold its share for $130bn in 2014. During that time it had seen amazing growth.
But in selling the share Vodafone has done two things. The first is to leave the US market. When Vodafone bought into the US it was a real follower. Europe dominated GSM and mobile growth. The big players were Alcatel, Ericsson, Nokia and Siemens. The only major US player was Motorola. When I went to Chicago I used to joke that the pilot should announce, "We have now landed at O'Hare, please set your watches back to GSM minus three years."
The climate has changed and we've seen the rise of the Asian manufacturers, thanks to Samsung and Huawei – but also the dominance of Apple, Google and Microsoft. Mobile is now US-led.
The second thing Vodafone has done is to lose protection from being taken over by AT&T. This has been threatened for a while but with Vodafone owning 45 per cent of Verizon Wireless there would have been seriously difficult anti-trust hurdles to overcome.
Difficult but not impossible, as Vodafone demonstrated with that Mannesmann deal. To avoid Vodafone's advances, the German company had bought Orange from Hutchinson, believing that the UK regulators would not allow one company to own two networks. Through incredible legal wrangling, Vodafone was able to pull the deal off by agreeing to sandbox Orange and then sell it off to the French after buying up Mannesmann.
But as one of the most significant companies in the UK, Vodafone was able to convince the UK regulator of its intentions.
It's unlikely that a US regulator would have been so convinced – besides, if AT&T had bought a Verizon-owning Vodafone, the only customer for the Vodafone shares would have been Verizon. In a situation where you have a mandated sale and only one customer the price rapidly drops. It would have been far short of the spectacular $130bn and so nothing like as valuable to AT&T.
I love it when a plan comes together
If, however, Vodafone took what it had left of that $130bn and bought T-Mobile US, it would have a number of benefits.
Vodafone would be back into the US market. This alone would open avenues to finance as much of the big money comes from Wall Street – and everyone, Americans in particular, tend to think that what happens in their own country is much more important than what is happening overseas. This is also true of the influence Vodafone would have on Apple, Google and Microsoft.
As the 100 per cent owner of T-Mobile, neé Voicestream, the British company could rename the acquisition Vodafone. When you are the second biggest mobile network in the world (after China Mobile), this kind of branding really matters and it's something the company never enjoyed with Verizon.
There are, of course, the economies of scale that come with being in a major market. Keeping suppliers' prices low is something Vodafone excels at thanks to its sheer size. This extends to getting handset manufacturers to sell phones to them at below cost price to drive up volumes, on the basis that the handset manufacturers could then sell the handset to rivals at the same price but with greater economies of scale and so make more money.
Such tactics would allow Vodafone to invest in the T-Mobile US network in a way which has never been done before and which it so badly needs. It's unlikely that any other company, having bought T-Mobile, would have enough resources left to build on the purchase.
Dirt cheap buyout! (Well, "cheap" at global megacorp rates)
The purchase of T-Mobile US could be done at fire-sale prices. Deutsche Telekom needs the money. It has significant European infrastructure plans which need the US sale to go through. In its corporate head the company has already spent the money. Not selling T-Mobile US would cause significant internal political problems.
But most of all T-Mobile US becomes a poison pill. Just as Mannesmann tried and failed with Orange, I believe that Vodafone could succeed. US regulators would be much more suspicious of an AT&T which bought a T-Mobile-owning Vodafone. The regulator has already blocked moves for AT&T to buy T-Mobile directly and this might be seen as a back door.
Unless, of course, Vodafone wants to be bought by AT&T. The directors may very well want the big bonuses which would come with such a sale. Retiring and playing golf might well be more attractive than patching up a network which has suffered from under-investment. But where is the fighting spirit in that? World domination is a far better game. ®
Sponsored: How to Process, Wrangle, Analyze and Visualize your Data with Three Complementary Tools