Who on Earth would buy a digi-watch? Answer: NUDISTS - in their millions
Adam and Eve style - from Apple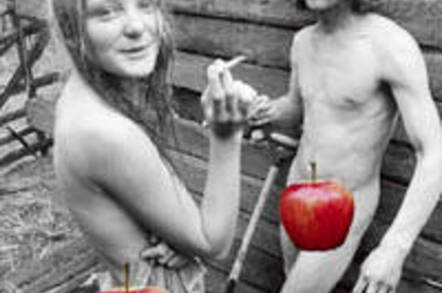 A leading British naturist, apparently speaking on behalf of millions of clothing-optional Britons, has welcomed the debut of the Apple iWatch and claimed the nude folk of Albion will soon be happily clasping it on.
Andrew Welch, spokesman for British Naturism (BN) and Young British Naturism (YBN), said his birthday-suited compatriots would happily don wearable technology, even if they weren't wearing anything else. However the primary attraction is not - as some have theorised - the fact that nudists have nowhere to carry their phones or other internet devices, but rather the fact that i- or e-Watches in general do not have built-in cameras.
Welch's organisation has estimated that up to four million Brits are naturists, meaning that one in 15 Blightonians are willing to drop their clobber in public.
"Naturism is typified by people not wearing clothes," he said. "But you don't need to be totally naked. Some people wear jewellery, others cover up a little. It's always useful to have a watch and just like everyone else, we like to keep our phones close to hand. So yes, I think naturists will use the Apple watch."
He pooh-poohed the thought that a smartwatch would be useful to nudists because they have no pockets to carry around a computer or phone, describing this assumption "a joke radio broadcasters make".
"Most people have a bag they carry around, so it doesn't present any kind of problem," he continued. "Our environments are generally safe, so most people have no hesitation dropping their stuff on the lawn - don't laugh - including valuable items."
Key to the attractiveness of the iWatch is the fact it does not come with a camera, the nude supremo added.
"There are people who try to infiltrate our meetings to take surreptitious photographs, which is exacerbated by the ease of taking snaps using phones. Taking away that ability would be a benefit, because with the iWatch you don't have that fear."
However, we might warn that the iWatch offers the ability to control an iPhone camera remotely, meaning that nudists' naked bits could still be targeted by pervy Apple users.
Happily, he didn't suggest wearing the iWatch in any untoward places.
"A watch you wear on your wrist? Crikey, that's groundbreaking," he joked.
Sadly, not every naturist is keen on Apple's new watch. Martin Bullen, of chairman of the Singles Outdoor Club, told us the only "white patch on my otherwise overall-tanned skin" was caused by wearing a timepiece. Nonetheless, he saw no advantage in carrying Apple's new gizmo.
"I see no need to keep hi-tech gadgets with me when I am at the club in order to get naked and sunbathe," he said.
"I have a mobile phone which can send & receive phone calls and texts, but but I usually forget it and leave it at home. I am not one of the current generation who has a smartphone glued to his ear at all times."
He also said that nudists had little need for the capabilities on offer, which include GPS tracking, and were often distrustful of the capabilities of some modern tech.
"Many naturists carry a shoulder bag of some kind, holding whatever they think that they may need," he said, continuing with the bag chat. "This often does not include a mobile phone. The reason for this is that many phones these days include a camera which are frowned on at many clubs.
"Naturists can be very leery about being photographed under conditions which they do not control, as images can get put on the net too easily by unscrupulous people. Also, capabilities such as GPS are simply not required within a club, although they may be of use on naturist walks where a shoulder bag would also be carried which could hold such a device."
El Reg has been invited to strip off alongside the nudists of Young British Naturism and demonstrate the iWatch when it finally hits the streets next year.
Until then, we'll keep the pendulum swinging with enough fruity Apple news to keep even the hungriest Apple scrumper happy. ®
Sponsored: From CDO to CEO