BONEHEAD FANBOIS encamp outside Apple Stores
You do know this is just an announcement, not a delivery?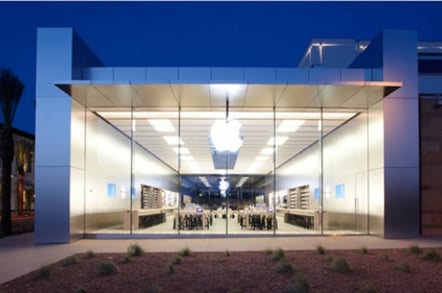 Fanbois around the world have begun queueing outside Apple stores ahead of this evening's product announcement - even though any new iStuff is unlikely to be released for weeks.
The two men at the front of the queue outside the glass cube of Apple's Fifth Avenue store in New York City have an excuse for camping out: they are being paid. Brian Ceballo and Joseph Cruz are sponsored by BuyBackWorld, a reseller. They have waited at the top of the Apple queue for five years running, netting themselves a cool $7000 in the process.
"We wanted to beat the record, which had been 18 days," Ceballo said after he arrived at the store on Sunday.
However, the pair are no longer at the front of the queue after surrendering the top spot to Jason and Moon Ray for $2,500. This couple is sponsored by VideoMedicine, which allows doctors to Skype their patients.
So what about the fanbois in London?
A London PR firm called Rhizome tweeted the following picture of the fledgling iShanty town outside the flagship Apple store on Regent Street.
View from Rhizome HQ of tents already outside the Regent Street Apple Store: pic.twitter.com/QI52K3LdFQ

— Team Rhizome (@rhizomepr) September 9, 2014
Another Twitter user asked if they had some information denied to the rest of us.
Have these campers outside the Regent Street Apple Store been tipped off about an imminent release? @MacRumors pic.twitter.com/muixITGVCo

— Joshua Preston (@jpfpreston) September 9, 2014
Unsurprisingly, the first people in line are also sponsored. Bonnie Carr, a "jovial young woman", is working for TaskRabbit, which allows people to outsource work to people who live nearby.
She may have a long wait, as the product announcement is due to take place tonight and the new stuff may not be in store for several weeks. Get comfy, Bonnie. ®