3D scanning made easy: Reg man ponders terrifying Xmas pressie
£825 scanner could help produce the WORLD'S CREEPIEST CHESS SET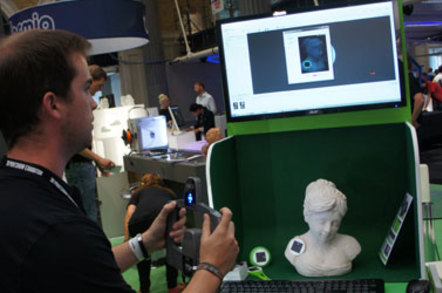 Something I determined some time ago is that the key to 3D printing is the modelling. The new scanner from Fuel3D makes this significantly less painful.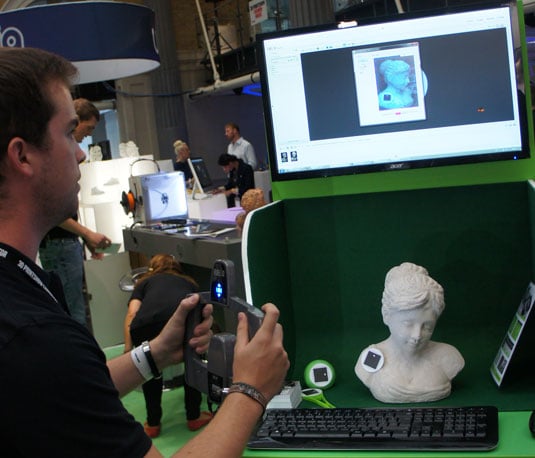 The little black square is used for registration
While there is an increasing number of desktop scanners what makes the Fuel 3D special is that it's a handheld device at a fraction of the price of existing products.
It's still far from cheap at £825, but a bulging order-book for the Oxfordshire company demonstrates that there is pent-up demand.
The unit contains two 3.6 megapixel cameras and three flashes, meaning the combination of shadows and views from different angles allows a 3D model to be built. Taking the pictures from effectively six angles takes around a second. Fine for people who can be asked to hold still but no good for toddlers - and the company reports that attempts to scan the boss' dog have been a failure.
Getting the distance right is critical and the unit has indicators to tell you to move towards and away from the target. People have to be scanned without spectacles. Which is fine, you can always model them later.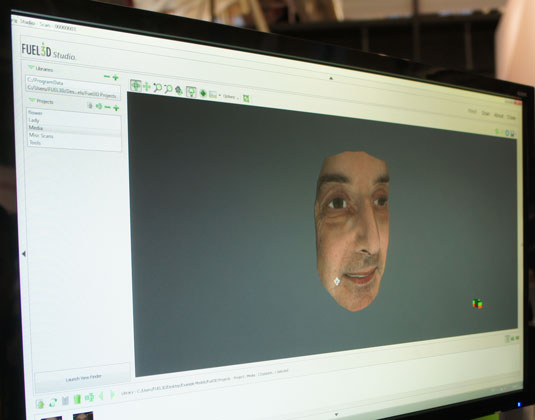 The device contains an FPGA but all the heavy lift processing is done in a PC. A 20MB file is piped from the scanner down a USB lead, so the scanner needs to be attached to a computer while scanning. In the computer a fine mesh is assembled and images are stitched.
It will do whole heads but the emphasis is on faces. One of the things which makes the Fuel3D special is its support for colour. Most of the devices which use laser scanning only produce a monochrome mesh.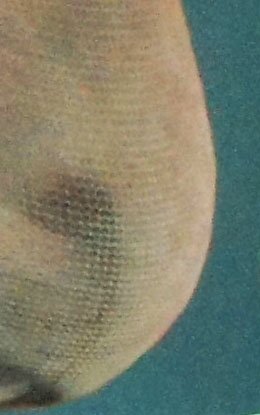 Systems which do support colour – Autodesk's 123D catch for instance – often look very much better on screen than as a model because the colour hides massive imperfections in the model. This is not the case with Fuel3D. It does do colour but the model is still sound.
The desktop software manipulates the image. You select the area which you want to use. Rotating and tumbling a wide-angle image of your own face feels a bit spooky, particularly looking at the rear, inside-out view. It's a shame you can't get a mesh-only view of the image and while the company says they have done a significant amount of polygon removal, it's still a very fine mesh. I think I'd want to run my model through something like Netfabb or Mudbox to further bring down the polygon count. Of course, what the scan produces is a surface – and usually only one surface at that.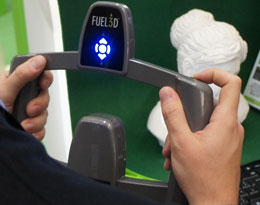 So the software will loft the surface to turn it into a 3D shape. Bear in mind that this is just the image capture. To then create something you might want to 3D print using it is going to take a fair bit of modelling in a number of packages.
It's not hard to think of applications. I did experiment with printing chocolate people a while back. Now I'm off to Thingiverse to find a chess set, because I'm sure the thing my parents most want for Christmas is a set where all the pieces have my face on them. ®