Shareholders throw the book at Apple for ebook price-fix drama
Boss Tim Cook named in investors' class-action sueball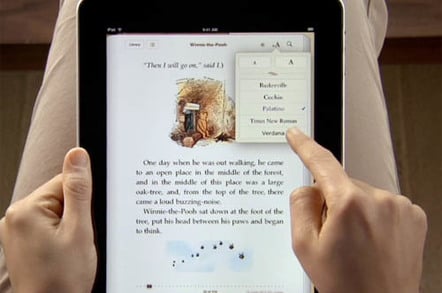 Apple is once again being sued by its own investors – this time they're irked by the ebook price-fixing brouhaha.
The lawsuit alleges the iThing maker part in the scandal harmed its reputation and thus shareholders' investments. According to a court filing obtained by journalist Jeff Roberts, Apple chief Tim Cook, executive Eddy Cue, and the board of directors are named in the class-action suit, filed on behalf of Apple's shareholders.
The paperwork alleges that the management team mishandled shareholders' funds and put the company's value in danger by conspiring with publishers to drive up the prices of ebook titles.
"This scheme caused Apple, along with the publishers, to be sued for violating the antitrust laws," the shareholders claim.
"These lawsuits have subjected Apple to significant damages," they add with no hint of irony.
This class-action suit, filed in a Santa Clara County court on Thursday afternoon, is another headache for Apple: the Cupertino giant was taken to court by various US states and found to have fixed ebook prices by a judge in July, though the company is appealing the verdict.
Five publishers involved settled out of court prior to Apple's hearings. Apple attempted to ink a $450m deal with the states, but the motion was shot down by the judge.
Apple is also facing another shareholder-led class-action revolt for its part in an alleged employee wage-fixing racket that ultimately kept engineers' salaries down.
Like the ebook suit, the plaintiffs in the case represent Apple shareholders, and claim executives put the value of their shares at risk through alleged mismanagement and illegal activity. ®
Sponsored: Becoming a Pragmatic Security Leader