New Lumia mobes nudge Microkia ever closer to biz customers
Lumia 830 mobes are cheaper and better than ever, reckons Microsoft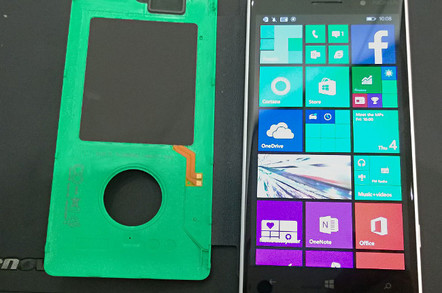 Pics + Hands On It was strange to see Lumia Windows Phones announced yesterday with Stephen Elop absent – the Canadian was nowhere to be found, for the first time. We spent a bit of time with Not-Nokia's new Nokias, and the 2014 strategy for Microsoft's huge new hardware division is a bit clearer.
In all, Nokia launched eleven Windows Phone 8.0 phones over the past 14 months, not counting carrier exclusives, in what looks like a throw-it-against-the-wall-and-see-what-sticks strategy. What really stuck was the cheap devices, of course. The Lumia 520 and (near-identical Asian variant 525) account for 40 per cent of Windows Phones in use. Nokia took advantage of BlackBerry's collapse, and inability to follow up BB0S 7 favourites with BB10.
It was a quite different story at the high end of a feverishly over-saturated market. It's hard to get a bad deal, and you can pretty much go into a shop blindfolded and come out with something good. Everyone, including Samsung, has struggled. No matter how much you put into great design or distinguishing features, the effort doesn't translate into market leadership.
Take HTC, which has won 18 months of rave reviews for its One M7 and even more beautiful M8 – these haven't translated into market leadership. Sony's brand, thoughtful design and single "killer feature" (waterproofing) haven't done the trick, either. We'll see if LG can find any success in Korea with its G3. In fact, one of phones I've most enjoyed using this year was the, er One Plus One – partly because of it's battery life. That's half the price of the rivals, and pretty much just as good.
And the same phenomena – try hard, win great headlines, negligible market impact – engulfed Nokia's 41MP flagship, the Lumia 1020. That also won plenty of quite positive press, gave Nokia a differentiator, and went nowhere. The flagship end of the smartphone market looks unsustainable for everyone. It is increasingly apparent that Samsung maintains its share by buying it, with a $14bn budget, and competing with this is uneconomic for the rest. But the economics are becoming dubious, even for Samsung.
So where do you find success? Wherever you can
The former Nokia phone team seems to have acknowledged as much. The current Lumia flagship is priced £100 cheaper than the Android rival flagships, and it thinks it can offer much more value in the mid-range.
Yet the story in B2B is quite positive. MicroNok reckons it has 21 per cent of the B2B market as it eats into fleet sales that were once mandatory BlackBerry purchases. The story for enterprise buyers is that Windows Phone is now a secure, mature and manageable enterprise client, available across all price points except "ridiculous". From today they can choose from a Windows Phone for under £50, all the way to a super 6-incher, the 1520, at under £400.
The 930 is SIM-free in many outlets for a shade under £400 too, but the 1520 is a better phone. All will do the same job, and you don't need to faff about with third party apps so much, or a third-party management solution – you'll probably have the Exchange Server running already.
The MDM offering might not be as rich as dedicated software, but it is now fairly comprehensive, covering enrolment and retirement, app management, and inventory reporting. That's a decent story – and the two new mid-range devices should help. The new Lumia 820 was clearly intended to be a "mid-market saloon", the Ford Cortina of the range, when it was unveiled in 2012. It featured a removable battery and built-in wireless charging. It seemed to disappear without trace, but I gather did better with business buyers than consumers. The 830 loses the compact design of the 820, but otherwise treads in the same steps, and should be available in a sub-£300 price bracket.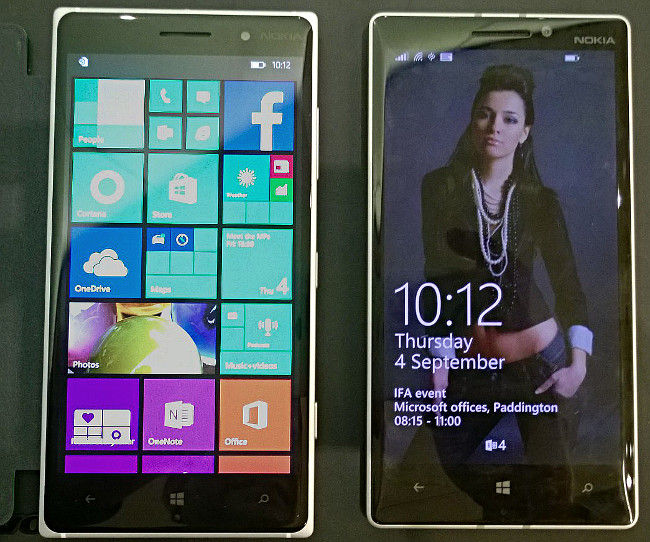 Comparison: Nokia's Lumia 830 on the left and the 930 on the right
Fondling the beast
Handling one yesterday, I was puzzled why anyone would really want a 930 in preference. No doubt for the full HD (1920 pixel tall) display, rather than the 1280pixel tall 830 display, which is the key difference. I thought the screen was excellent and the expansion slot and replaceable battery give it a huge advantage over the 930.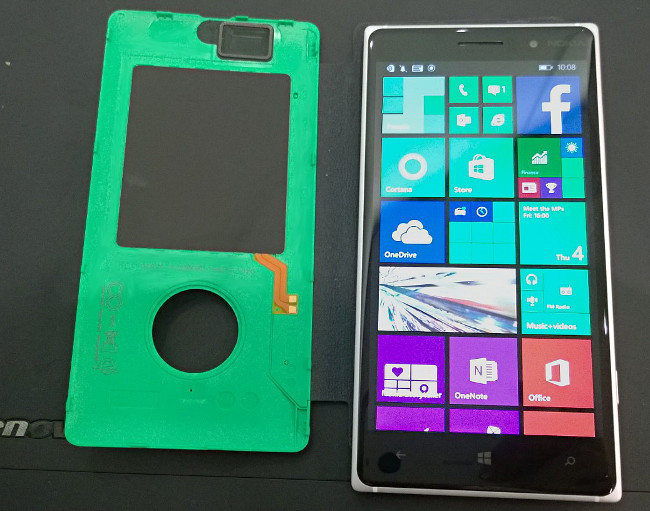 Nokia Lumia 830, showing removable battery
Last year's Lumia's 720 was, as I wrote yesterday, "the most underrated" of all the Nokia Lumia phones. Unlike the 820 and above, the 720 had been built on the budget Snapdragon platform. The battery kept going forever, and the camera consistently surprised you – in a good way. This year's is almost identical in form factor – but loses the dedicated buttons. Enterprise buyers will be attracted to its price, cheaper than that of its predecessor – somewhere north of £150 but well below £200.
Two valid criticisms of Microsoft's mobile strategy do stick. One is that it has taken years to claw back to where Windows Mobile 6 was a few years ago – and it's still far below the market share WM6 enjoyed. It's taken years to add back features like VPN support. The great "reboot" which saw WM6 discontinued and replaced by a brand new, immature consumer-focussed platform hasn't captured its intended enterprise market.
The other, and it's voiced by many aficionados, is that Microsoft's phone development is simply too slow. Nokia's phones division is now owned by Microsoft because Nokia didn't have very much exciting to sell in 2012, as Android was eating up the market. It couldn't sell a range of Windows Phones devices across all the different price points – there was really no budget option available that year, particularly in that 510/520 segment that became a hit.
Chop chop, Satya
And it's slow to bring Windows Phone up to parity. It ought to be the best Microsoft client, but this isn't always the case. For example, if you have an Exchange server, then you're more productive with a third-party app like Tasks and Notes on Android, than using Windows Phone as a client. It doesn't even support Exchange notes out of the box. That's not the Phone team's fault entirely – Microsoft has deprecated Exchange as a PIM. Another example is attaching multiple documents to an email. One more is Skype. With very good versions of Skype, Office, Lync and OneDrive on Android and iOS, these need to be first class citizens on Microsoft's own platforms, too.
The former Nokians says they're targeting a group of buyers its marketdroids call um, "Inspired Doers" – who are apparently "resourceful, compelled to take action, optimistic, inventive, independent minded." But that sounds like a description of the existing Lumia consumers, rather than where the rather dull-but-lucrative potential of Lumia probably – in business. Now someone needs to remind Nadella, who has never sounded that enthusiastic about the Nokia acquisition and is brutally getting rid of 12,000 Nokians, that it's a more useful asset than Surface. ®
Sponsored: Minds Mastering Machines - Call for papers now open