Not even CRIMINALS want your tablets, Blighty - but if that's an iPhone you're waving...
German thieves prefer Android, ja?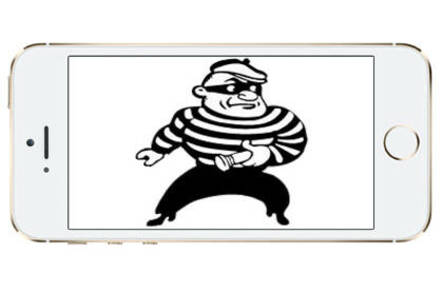 UK smartphone thieves prefer iPhones while their light-fingered counterparts in Germany favour Android, according to the results of a new survey.
Mobile security firm Lookout's Phone Theft in Europe study found iPhones are the most popular target of theft in the UK. 39 per cent of stolen phones in Blighty are iPhones, significantly more than Android (24 per cent). This is the reverse of Germany, where 42 per cent of stolen phones are Android, and just 33 per cent are iPhones.
Phone theft is usually a hidden rather than overt act. On the whole, victims are unlikely to immediately notice that their phone has been stolen: 86 per cent of Germans don't notice immediately, while in UK it's only slightly better (78 per cent), while the French (at 69 per cent) are slightly savvier.
Smartphone theft across Europe is likely to occur as a result of pickpocketing, where a phone is stolen from a victim's hand, pocket, purse or bag (28 per cent UK, 32 per cent France, 27 per cent Germany) than as a result of phones being left in a public place or being taken from a home or car. Brits are significantly more likely to report their phone was stolen from a bar, pub or nightclub (23 per cent) than anywhere else. In France, public transportation is the highest ranking spot where victims experience theft (17 per cent).
Theft of tablets in the UK is still uncommon - only four per cent of those surveyed had experienced fondleslab theft.
Smartphone theft can have consequences beyond the theft of a device. One in 10 phone theft victims report loss of confidential company data, 11 per cent experience identity theft, and nine per cent experience fraudulent charges on their accounts after a theft.
The online survey by IDG Research on behalf of Lookout in March The survey was fielded to respondents in the US, UK, France, and Germany who reported owning a smartphone. Quotas were set to ensure that approximately 500 respondents (2,403 complete responses) from each country had their smartphones stolen at some point, while another 100 respondents from each country were allowed to complete the survey despite never having their smartphone stolen.
One in four (23 per cent) of UK survey respondents have had their smartphones stolen, compared to only 13 per cent who've had their wallet or money stolen. Since the survey was slewed towards victims of smartphone theft, these figures only really tell us about victims of phone theft who've also been unfortunate enough to have their wallet pinched too, rather than reflecting the overall prevalence of similar crimes.
French victims of smartphone theft are more likely to file a police report with mobile carrier (74 per cent) and local police (71 per cent) compared to victims in Germany, where 58 per cent filed a report with their mobile carrier and 63 per cent filed a report with the police. Instead, Germans are more likely to use a phone finding application (26 per cent, compared to French 17 per cent, UK 19 per cent) when their phone is stolen.
Lookout's report - which aims to sheds light on smartphone theft in the UK, France and Germany - can be found here. The report also offers various smartphone security tips, including advice on how Lookout's security app can help in the event of smartphone theft. Other smartphone security utilities are available. ®