Chumps stump up $1 MEELLLION for watch that doesn't exist
By the way, I have a really nice bridge you might like...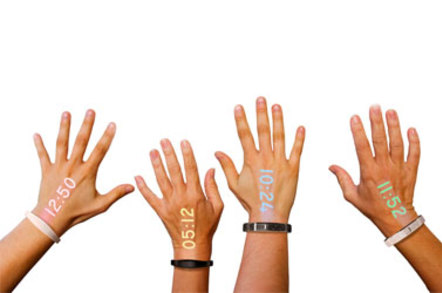 An Indiegogo project to build a watch that projects its display onto your hand has blown the doors off its target by raising a million dollars in funding – even though no functional device has yet been built.
The Ritot watch uses a DLP matrix in a wristband to project an image on to the back of the wearer's hand. In addition to the time, the watch can show caller ID, texts, Facebook statuses and tweets.
It's a compelling device. Having raised 2,482 per cent of its target funding of $50,000, the company has added multiple colours of bracelets and a fitness tracker. However, it eventually gave up trying to work out what to do with the extra money and asked for contributor suggestions.
Unfortunately, there is a problem. It's hinted at in the Indiegogo pitch, where – in between saying that by funding the project you are to become a piece of history, a compelling video and the projected February 2015 shipping date – there is a rather troubling line: "Currently we don't have a fully working prototype, the photos in campaign [sic] are computer renderings of what we envision the device to look like."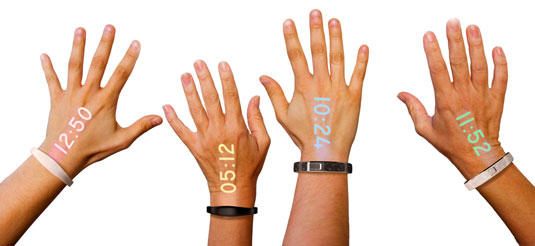 Hands up who wants their money back?
It's telling that Kickstarter would not have accepted a project at this stage. Indiegogo is more liberal. The renderings show the time displayed with the wearer's hand at all kinds of different angles, yet in the description of the components there is nothing on the optics which might track the position of the hand it's projecting the display onto.
Perhaps unsurprisingly, the contributors' comments section has descended into a set of uncouth squabbles among some of the 6,910 people who put money into the endeavour. The technology has also been comprehensively debunked by the Dropkicker website.
If you want to fund something that has a much higher likelihood of getting off the ground you'd do much better to visit the Kickstarter page for Project LOHAN. Who knows, with $1.2m we might even put Lester himself into space. ®
Ritot pitch video. Nice production, shame about the lack of working prototype.