Jet-powered DRONE-maker slapped for illegal exports
UAV sent offshore without the right paperwork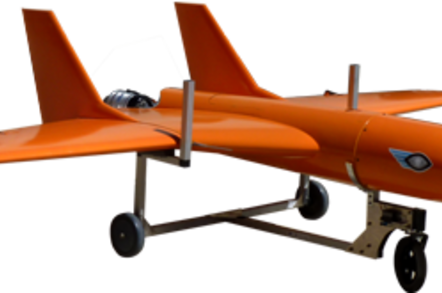 An Australian maker of drones – no, not the toys beloved of Jeff Bezos, a more serious kind – has copped both fines and confiscations after trying to export its products without a permit.
The news comes hot on the heels of Google's joining of the newly formed Washington lobbying group Small UAV Coalition (Unmanned Aerial Vehicle). The Federal Aviation Administration has said that it won't permit the commercial drone flights that Google, Amazon and co are planning. Currently, Google is testing its drones in Australia.
The local Australian company which ran afoul of the law, Cyber Technology, offers drones from quad-copter-class all the way up to the jet-powered cyberWraith, which it describes as a "medium-to-high speed jet-powered target drone" designed for weapons testing applications.
The Australian Customs Service announcement about the prosecution doesn't nominate which drones were involved in the court case.
Since Cyber technology's drones are able to fly out of line-of-sight range, they're listed in the Defence and Strategic Goods List (here) and can't be exported without a permit.
Customs states that the company has been convicted in the Perth Magistrates Court of presenting the wrong export permits: once, in February 2013, for an un-described "shipment of interest" to folks on Customs' Counter-Proliferation Unit; and a second time, in March 2013, which seems to have involved the quad-copter-scale craft.
About the second incident, the statement says: "an employee of Cyber Technology attempted to travel overseas with controlled goods as baggage. The goods were accompanied by a permit which did not cover the goods being exported and the goods were also seized."
On Friday, August 29, the court ordered that Cyber Technology forfeit the seized goods (worth around AU$80,000), and pay AU$5,000 as surety for its 12 month good behaviour bond. The maximum fine for breaching the Customs (Prohibited Exports) Regulations is more than AU$2 million. ®
Sponsored: Becoming a Pragmatic Security Leader