Discovery BATTLED 2-foot-long WEE ICICLE on first mission - 30 years ago today
Space shuttle took three attempts to launch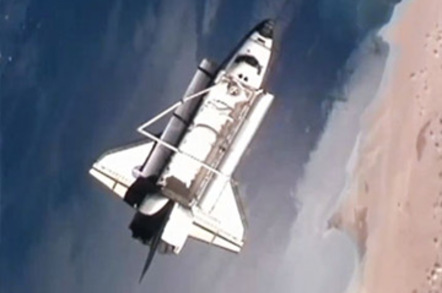 Today marks 30 years since the Discovery shuttle set off on the first of its 39 missions into space.
The spacetruck lugged three communication satellites on its inaugural adventure. It went on to fly to space more than any other craft, and - by the time of its retirement in 2011 - had carried more crew members to orbit than any other shuttle.
To celebrate the anniversary, the US National Air and Space Museum recalls the drama surrounding Discovery's maiden voyage, mission STS-41D, with a blog post detailing the nail-biting attempts to launch the craft into space.
"Three launch delays, the first on-pad engine shutdown (just four seconds before liftoff), a related fire on the launch pad, and rollback from the pad for a major payload shuffle," the museum's space shuttle curator Valerie Neal breathlessly recounts.
Surprisingly, mission commander Henry Hartsfield was the only experienced crew member. Every other 'naut was setting off as a first-time flyer.
Discovery also lays claim to blasting the second American woman into space: Judy Resnik, the mission's specialist/remote manipulator arm operator.
Later in the post, the museum offers an amusing anecdote about a two-foot-long icicle of wee and wasterwater, which "jutted out from a dump port just beyond the crew hatch".
The stick of frozen urine threatened to damage the open payload bay door. The crew, aware of the icy-piss danger, shifted the orbiter until it was exposed to searing heat from the Sun. Once it had begun to melt, the 'nauts were able to carefully tap the icicle loose with the robotic arm.
Here's The Register's coverage of Discovery's swansong in 2011. ®
Sponsored: Detecting cyber attacks as a small to medium business