Larger iPad could target big biz, save Apple from low-end scrum
12.9-inch iPad to reverse tablet slowdown?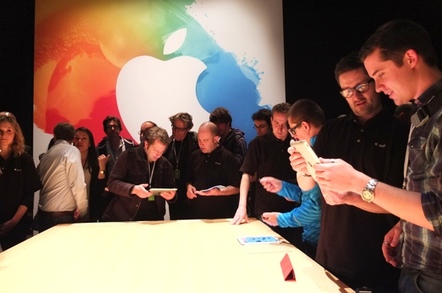 Analysis As has been increasingly the case with smartphones, the tablet market is shifting away from an Apple/Samsung head-to-head, and becoming a free-for-all.
While the two major suppliers still lead the sector, their sales declined in the second quarter, even though overall shipments were up. Apple may look to address the challenge in the same way as it plans to refresh the iPhone, with significantly larger screens.
That shows the firm avoiding the scrum in the low end of the market, and trusting that the premium segment, especially the enterprise, will prove large enough to give it growth without having to take on Xiaomi in China.
While its recent alliance with IBM will certainly help in the enterprise space, the iPad will face new challenges there too, not just from large-screened Android alternatives, but from different form factors.
There is the rise of the Chromebook, for instance, a low cost device for which Apple has no response at the moment, but which could be an alternative to a tablet for a business or education user. And of course, there is the impact of Microsoft, and what it announces (or doesn't) for the tablet and PC/phone hybrid space with Windows 9.
New iPads anticipated
According to Bloomberg sources, Apple intends to counter the recent slowdown in iPad sales – which have fallen year-on-year for two quarters in a row – by releasing a 12.9-inch model early next year. Of course, the reports are just rumours at this stage, but the sources indicate that Apple suppliers are gearing up to manufacture the larger tablet, having worked on the designs and components for about a year already.
There will also be an updated 9.7-inch model and a new iPad mini in time for this year's holiday season, as Apple moves away from its traditional one-model approach and increasingly diversifies its iDevice variants to appeal to new user bases and price points. This is vital when Samsung has thrown any number of sizes, plus Super AMOLED screens, at its Galaxy Note and Tab ranges – though nevertheless, the Korean giant also saw its share eroded in Q2, under pressure from low end providers.
Apple is facing its usual problem – it is heavily reliant on its large and loyal fan base, and with each generation of iDevices, the percentage of sales is, predictably, more weighted to upgrades. Yet it has been difficult for Apple to expand that fan base as rapidly as it used to do, partly because of pricing challenges in the emerging economies where most new growth is seen. And while handset users, assisted by more flexible carrier policies on upgrades, may want a new iPhone every 12-18 months, the same is not true when it comes to tablets, which are mainly seen as luxury, not essential, items.
Therefore a brand new form factor might encourage owners of 7.9-inch or 9.7-inch tablets to splash out on a new model, to get a bigger screen for video consumption or for work purposes. It might also help attract high end users who would otherwise be drawn to large-display slates from other vendors.
And with the iPad making significant inroads in the enterprise, a larger version could help business users transition from laptops, with the combination of the bigger screen and iOS 8's expected support for multitasking. The advantages of running multiple apps at once are more evident on a large display, and this functionality will be one of the most important, and overdue, enhancements to turn the iPad into a business tool.
Fighting for lead in China becomes futile
It is true that most of the recent growth in the tablet segment came from small-screen, low cost models but as in handsets, Apple is unlikely to want to play in that world of price wars, and instead will look to reinforce its reputation for providing premium, aspirational products with decent margins.
This is wise – even Samsung, with its huge scale and ability to play at the top and bottom of the market, is running out of weapons to compete with Chinese vendors. This is not just because they are cheaper, but because many of them – Xiaomi and Lenovo, but also some of the lesser known names – are also providing similar functionality and capability as an iPad or Galaxy, meaning that the big names must rely almost entirely on their brand to stay ahead.
At a recent China/Taiwan technology conference, Ting-Chen Hsu, CEO of Taiwan Display, put his finger on the problem for Apple and the others, saying in his keynote address: "The Chinese market we all knew is nothing like the Chinese market we know today."
He outlined four "megatrends" among Chinese device makers – high end specs at low cost (his example were smartphones from Oppo, Huawei and others that offer 1.36 the resolution of the iPhone at 50 per cent of the price); specs which exceed those of global brands like Samsung in key areas like display size and resolution; the rise of high end branding combined with the economies of scale of ODM manufacturing partners; and the increasing trend for Chinese ODMs also to serve Indian and African brands.
"Have you ever heard of Tecno Mobile?" he asked – as it turned out, Tecno is the top African brand, with higher market share than Samsung south of the Sahara, but is Chinese-owned.
So staying away from that bunfight make sense, but both Apple and Samsung face the problem that they are not making sufficient design and functionality advances to justify their higher price points, even in their heartland markets.
Tim Coulling, an analyst at Canalys – whose estimates indicate that the whole tablet sector saw sales fall sequentially in Q2, with Samsung and Apple worst hit – told Channel Partners: "The tablet market has quickly found itself in the same position the notebook market was in some years ago, with minimal increases in hardware performance forming the basis for an argument to upgrade. When considering the most common tasks that tablets are asked to perform, the need for more horsepower is often not evident."
Windows RT's death rumoured again
Meanwhile, what will Microsoft do? The more Apple turns to the enterprise to deliver iPad growth, the less it can airily dismiss the influence of the Windows giant, as it certainly can in handsets and consumer tablets. Microsoft is due to unveil Windows 9, aka Windows Threshold, in late September but recent reports suggest it will first concentrate only on its traditional x86 platform, leaving ARM-based implementations for later.
That would be a dramatic reversal on the equally dramatic approach of Windows 8, which ushered in the first ARM-based implementation outside the hand-set space, at the same time as the Intel-based version. However, Windows RT was poorly launched and communicated and struggled to find a position.
Indeed, some believe the x86 focus of the Threshold event signifies the death of WRT, and certainly a logical route would be to converge it with Windows Phone in a single ARM-based platform. It does appear, from most sources, that Microsoft will not abandon ARM, but that it may drop the attempt to create a unified experience across both architectures.
While Windows 9 is expected to restore many of the traditional features of older releases for x86 (such as the return of the Start menu as a default), there are reports that WRT's successor will do away with the desktop altogether and sport a touch-friendly interface akin to Windows Phone's (another reason to merge the two).
This would see Microsoft being brave enough to introduce a desktop-free interface, something it showed off as part of its "Metro" launch for WRT, but then raced to reverse. By not insisting on a common UI, it could preserve traditional PC-style Windows on the x86 range and deliver a new-style interface, without the compromises of W8, for those who want that, on ARM platforms.
Of course, it doesn't matter to Apple whether Microsoft's Surface tablets, and the slates and hybrid devices of its partners, run on ARM or Intel processors. It will be looking to see how far Windows 9 is capable of holding onto Microsoft's huge installed base in the enterprise, or even wooing defectors back to the fold; and also at whether new CEO Satya Nadella has the enthusiasm for turning Surface into a compelling device range at last. Recent $100 price cuts on the Surface 2 were taken, by many, to be another sign of the imminent death of WRT, but are just as likely to be preparation for new models. Windows Phone will likely be scaled up to tablets in the future, but Microsoft almost certainly needs one more generation of WRT before that happens.
Copyright © 2014, Wireless Watch
Wireless Watch is published by Rethink Research, a London-based IT publishing and consulting firm. This weekly newsletter delivers in-depth analysis and market research of mobile and wireless for business. Subscription details are here.