All-flash array shipper Violin plays concerto after re-stringing
Cuts its losses - literally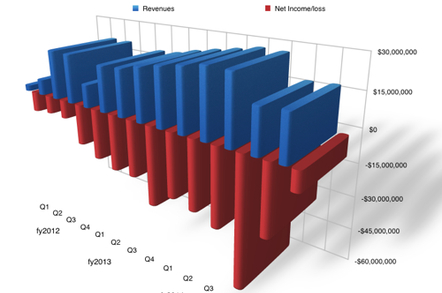 +Comment Violin CEO Kevin DeNuccio has cut the flash array shipper's losses to a fraction of what they were in their previous results, and grown revenue over the previous quarter. It's still lower than a year ago, but a landmark for all that. Violin is no longer on the road to perdition.
Growth should also accelerate as the new products adding data management services such as deduplication have only just come on board. If they do as well as hoped next quarter, then Violin could even make a profit, its first one in more than three years.
Revenues were $18.6m in its second fiscal 2015 quarter, which finished at the end of July. That was 3 per cent up on the first quarter's $18.1m and 30 per cent lower than a year ago, before DeNuccio came on board in February to sort out the previous CEO's mess.
There was a loss of $8.4m, much better than the previous quarter's $30.1m loss and the eye-watering $56.5m in the quarter before that. That makes a lovely trend of loss reduction, far faster than revenue growth.
The revenue was slightly less than analysts' expectations while the loss number was better.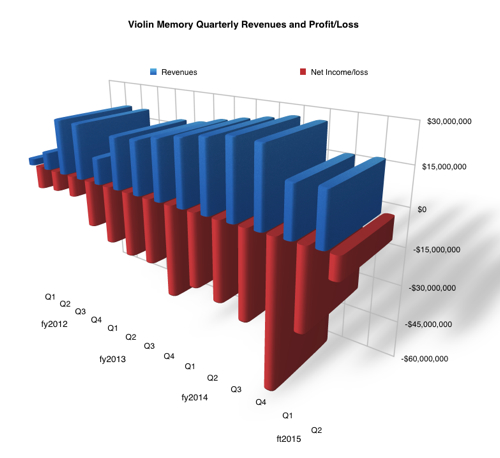 In canned remarks, DeNuccio said: "I'm extremely pleased with the progress we made in the second quarter as we continued to execute through the transformative actions taken in the first quarter. Our results reflect the positive benefits we are beginning to realise from our transition, including a return to top-line growth and bottom line improvement."
The new products should help: "We're starting to regain momentum, and anticipate increased growth in the second half of this fiscal year stemming from a rapidly growing market opportunity, our recent new product introductions and a more efficient go-to-market model."
Three end-user customer transactions accounted for 36 per cent of the quarter's product revenue, five represented 44 per cent.
In fact, DeNuccio said in the earnings call, the top customer transaction in the quarter exceeded 10 per cent of Violin's revenue – more than $1.86m: "We were selected for primary storage use, on the basis of our ROI and total cost of ownership, after that customer had previously deployed Violin All Flash Arrays for two performance sensitive applications. To give you some colour on how aggressive the competitive landscape can get, in this case we fought the incumbent all the way to free."
The initial order was for one petabyte of storage – we bet the sales rep was ecstatic.
Chris says
Looking at the results coldly, the revenues, from a supposed all-flash array market leader, are not as good as they could be. $18.6m compares poorly to Nimble Storage's $54m in results we covered yesterday. That's the kind of revenue number Violin should be reporting.
It is still poorly but Violin has turned the corner and should start growing more strongly as the new products, with missing functionality remedied and new pay-as-you-grow pricing models, get pumped out through an improved channel infrastructure.
DeNuccio said: "As we now enter the second phase of our recovery, we are starting to regain our sales focus and momentum winning significant new customers and closing large transactions that make me feel that we are on the right path and poised to grow from here."
He added: "The price of our all-flash solution is now less than the majority of high-end enterprise disk solutions sold today for the first time," referring to the recent deduplication announcement.
The market is going Violin's way with IDC forecasting 2012 to 2016 compound annual revenue growth of 58 per cent for solid state arrays.
DeNuccio believes "that revenue will begin to grow and accelerate in the second half," of the fiscal year, partly because of "the increasing customer adoption of our vision of an all silicon data centre." No mention of a software-defined data centre or software-defined storage here.
He said: "We intend to begin investing this quarter in sales coverage to capitalise on our much stronger product portfolio."
Headcount is expected to rise to 345 by the end of October, up from 328 with most of the new people joining sales and marketing. DeNuccio mentioned new hardware: "Our next generation systems that are coming."
He didn't provide a revenue estimate for next quarter but did suggest a 9 per cent revenue growth rate, implying $20.3m – still less than the $28.3mn in the comparable year-ago quarter. Perhaps the fourth quarter might see double digit growth, meaning $30m-plus. That would imply full year revenues around $88m – less than last year's $107.7m but better than the previous year's $73.8m.
From here on, barring accidents, things should only get better for Violin, but it still has a long way to go and the competition is intense, with EMC's XtremIO, FlashSystem from IBM, HDS, HP's all-flash 3PAR, Pure Storage and SolidFire, and NetApp's incoming FlashRay added to its EF-Series. But Violin is now on a level playing ground with them instead of lagging behind. ®