PhabletPhace: All the cool kids are doing it in Asia
Phát, smart and happy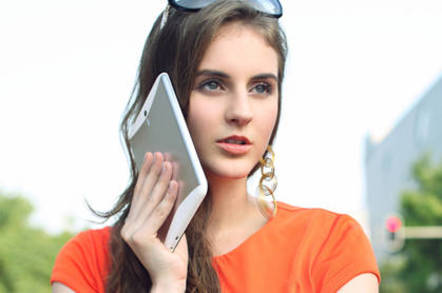 Large smartphones, aka "phablets" have have captured a big (fondle)slab of the mobile phone market in Asia.
That pronouncement comes from analyst outfit IDC's new Worldwide Quarterly Tablet Tracker, which identifies folks willing to use a phablet – a tablet with built-in phone and at least a seven-inch screen – as a new demographic to be reckoned with.
Avinash Sundaram, a senior market analyst at IDC, says the willingness to use a whopping big phone is an Asian thing not seen elsewhere.
As a result, IDC says, this owned-by-Android segment represents 25 per cent of the devices shipped in the region (Asia-Pacific excluding Japan) for the second quarter of 2014.
While the preference might seem odd – nobody looks at their best holding something the size of a Moleskine to their ear – Sundaram says it's a rational choice, given the affordability of such kit.
"This shift highlights the sustained interest among consumers, at least in emerging markets, to have a single mobile device for all their needs – be it watching movies and soap operas, taking pictures, texting or making calls, even if the device has a huge 7" screen on it." ®
Sponsored: Becoming a Pragmatic Security Leader